Saoirse Ronan And Two More Up For Mark Romanek's Cinderella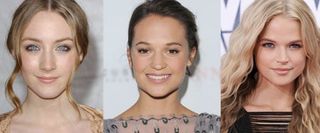 We've seen Snow White don armor and sword fight in Mirror Mirror and Snow White and The Huntsman as well as in the Disney-produced TV series Once Upon a Time. Now the House of Mouse is looking to give a modern makeover to another of their beloved princesses with Mark Romanek's live-action Cinderella.
After a couple years in development, this fairy tale feature finally came out of the shadows last week with word that Cate Blanchett is in talks to play the infamous evil stepmother. While she's still in negotiations, Variety has discovered three contenders for the title role. Saoirse Ronan, who scored an Oscar nod in 2008 for Atonement, will soon be auditioning for Romanek, as will rising Swedish ingénue Alicia Vikander, who recently awed critics as Princess Kitty in Joe Wright's awe-inspiring Anna Karenina. Finally there's Gabriella Wilde, who played D'Artagnan's love-interest in Paul W.S. Anderson's Three Musketeers and will soon appear as Sue Snell in Kimberly Peirce's Carrie remake.
Having headlined 2011's Hanna as well as the upcoming adaptation of Stephenie Meyer's The Host, Ronan is clearly the best known and most established of these Cinderella contenders. And she has an edge, as she and Blanchett were formerly considered to star in Disney's later aborted Snow White revamp Order of Seven. However, her upcoming schedule could prove too crowded for her involvement here. She's already slated to star in Wes Anderson's Grand Budapest Hotel and is attached to front the historical drama Mary Queen of Scots. So, basically she might be great for the role, but may be too busy to take it on.
For her part, Vikander seems an excellent choice. She showed in Anna Karenina that she can deftly maneuver a sharp character arc, and has a great look and a remarkably amiable screen presence. Plus, she's also drawing rave reviews for her role in the recently released Danish drama A Royal Affair, which is Denmark's submission for the 2013 Academy Awards. Critics—myself included—are already calling for more of her, and with her penetrating stare and soft features, she seems just the kind of ingénue that the Never Let Me Go director favors.
Wilde, whose most recent appearance was the TV movie Dark Horse, fittingly appears to be the dark horse here. With her model good looks, blue eyes and long blonde hair, her look is more traditional princess than the other actresses, which could be an obstacle if Romanek is looking to redefine Cinderella. And hers is the least celebrated career. Still, she was likeable in the frantic mess that was Three Musketeers, and apparently had a strong enough audition to snag a coveted role in Carrie, so don't count her out just yet.
Staff writer at CinemaBlend.