Disney's New Cinderella Movie Could Be Directed By Mark Romanek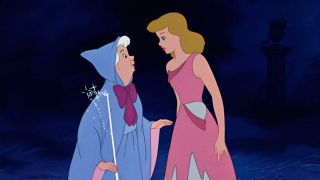 (Image credit: WDAS)
Last May, just a few months after Alice in Wonderland turned into an enormous hit, Disney decided to stay in the business of blonde women wearing blue dresses and optioned a new script about Cinderella from The Devil Wears Prada writer Aline Brosh McKenna. The project seems to have been sitting still for the last year, even as two other studios went ahead with their own Snow White movies, but Disney is now moving ahead with Cinderella and a pretty unusual director to possibly guide it. Deadline reports that Mark Romanek, director of One Hour Photo and most recently Never Let Me Go, is the studio's choice to direct Cinderella.
The new movie would be a slightly more politically tinged version of the fairy tale, in which the prince is set for an arranged marriage that benefits the kingdom, but who throws he world into a tailspin by falling for Cinderella instead. That's a romantic plotline almost as old as the Cinderella fairy tale itself, but fairy tales are pretty much the definition of timeless, and it's hard to think of a version of Cinderella that's gone this exact route. The real question is what Romanek might do with the material, or what Disney sees in him to make them pursue him. He's definitely not a proven hitmaker, with both Never Let Me Go and One Hour Photo opening to rave reviews but meager box office; his most recent attempt at a studio movie, The Wolfman, resulted in him quitting the project weeks before production was set to begin, only to be replaced by Joe Johnston. Presumably the Cinderella production would be less fraught, but who knows if it would take advantage of Romanek's great skill with lyrical, quiet filmmaking.
Even if Romanek doesn't take the job, it appears we'll be seeing Disney's fresh new take on Cinderella sometime soon. With the two Snow White movies-- Snow White and the Huntsman and just plain Snow White-- due out next year, are you guys ready for yet another fairy tale princess to take over pop culture?
Your Daily Blend of Entertainment News
Staff Writer at CinemaBlend