Disney's Cinderella Trailer Reveals Its Heroine In All Her Glory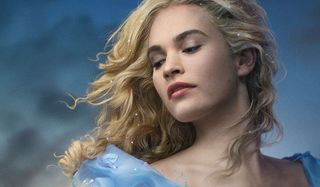 Riding the dark coat tails of Disney's smashing success Maleficent comes Cinderella, a live-action retelling of one of the world's most beloved fairy tales. And after months of teasing, Disney is finally giving us a rich look at this promising adventure with a new trailer:
"Have courage, and be kind."
Looking to set itself apart from the 1950 animated Cinderella from the very start, this trailer for the Kenneth Branagh-directed version begins with a rare moment between poor little Ella and her late mother. For the moment, we're spared the loss of this lovely mum. Still, we're quickly introduced to Cate Blanchett's evil stepmother, who'd rather you call her Madam, thanks. And then of course, there's Cinderella's origin story of being bullied into servitude and mocked by her malicious stepsisters, who bestow her with her titular nickname. But don't cry for Ella, her mother's words will lead her to happiness, and the path of a dashing prince.
Okay, so I'll confess, I loathed the first teaser that focused solely on Cinderella's iconic glass slipper. But this trailer gives us a delightful and daring heroine (Lily James), colorfully cruel villains (Holliday Grainger and Sophie McShera), the resurrection of Robb Stark a dreamy prince (Richard Madden), a whimsical fairy godmother (Helena Bonham Carter) and some adorable CGI mice! What's not to love?
And can we take a moment to admire Cinderella's gorgeous gown?
Cinderella will hit theaters March 13th, 2015.
To see Cinderella's live-action characters side-by-side with their cartoon ancestors, click to page 2.
Casual Cinderella's clothes were believably drab in the animated version. But Disney made sure every look of their live-action incarnation was enviable, dolling her up in a charming blue dress with pretty pink flowers.
Cinderella's first attempt at the royal ball gown is as pink as you remembered. And while it's rough stuff that her stepfamily rips it to shreds, we're thinking that was a good thing.
For fashion by fairy godmother, Disney went the wedding route: something old (the skirt volume and puffy sleeves), something new (hair down), and something blue (a gown of pumped up color). We approve.
Whoa! It looks like we know were Cinderella's old ball gown went. Gone is the fairy godmother's dowdy periwinkle cape. Come has loads of glitter and glitz.
Cinderella's carriage used to be a pretty pale aqua that complimented her dress. But forget that! In the age of Beyonce, a proper movie princess demands a blinged out ride. And that means gold from tip to tail!
Okay, so for their sinister stepmom Disney ditched any attempt at historical accuracy in favor of a look that seems a clash between Golden Era Hollywood starlet and Real Housewives. And it's fabulous.
For the stepsisters, Disney kept close to their preferred colors, and true to their predilection for hair accessories. Their fashion is still in question, but at least their resting bitch face has softened.
Prince Charming gets a major upgrade with Richard Madden. He used to look like an old-school Ken Doll. Now, he's hot.
What's your most or least favorite element of this Cinderella makeover? Sound off in comments.
Staff writer at CinemaBlend.
Your Daily Blend of Entertainment News
Thank you for signing up to CinemaBlend. You will receive a verification email shortly.
There was a problem. Please refresh the page and try again.