Disney Gives First Look At Studio Ghibli's The Secret World Of Arrietty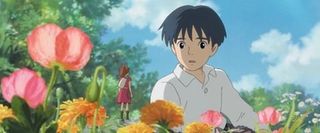 One of the cooler Disney partnerships in recent years has been their teaming with Studio Ghibli to help bring legendary animator Hayao Miyazaki's films to a wider audience here. While the die-hard fans will be content to watch imported DVDs with the subtitles turned on, the Disney marketing machine combined with English-language dubs has introduced movies like Spirited Away and Howl's Moving Castle to people who probably wouldn't have otherwise ever seen them, and that can only be a good thing. Now this partnership is paying off again, with the House of Mouse set to bring Studio Ghibli's The Secret World of Arrietty to American theaters on February 17th, 2012. You can check out the trailer below.
The Secret World of Arrietty was directed by Hiromasa Yonebayashi, with a screenplay written by Miyazaki and Keiko Niwa. If the trailer seems a little familiar, that's because Secret World is based on the classic children's book The Borrowers by Mary Norton. It's been adapted into films a few times over the years, most recently as the 1997 version starring John Goodman. The English-language cast for this release includes several recognizable voices such as Amy Poehler, Carol Burnett, and Will Arnett.
You can visit the official website for The Secret World of Arrietty right here.
Your Daily Blend of Entertainment News