Disney's Live-Action Jungle Book Has Found Its Mowgli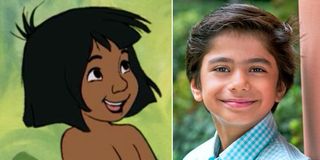 Look at this adorable fresh face! This is Neel Sethi, the new lead of Disney's live-action The Jungle Book. And he looks the part down to the flyaway hairs!
Based on the beloved novel by Rudyard Kipling, The Jungle Book centers on an orphan boy named Mowgli who grows up in the jungle, raised by a pack of wolves, a bear and a black panther. While the Disney adventure directed by Jon Favreau will feature stars like Scarlett Johansson, Idris Elba, Lupita Nyong'o and Ben Kingsley, 10-year-old Neel Sethi will get the spotlight playing Mowgli. The rest will voice the CGI-creatures who inhabit the jungle alongside this friendly feral boy.
Disney is proud to announce the casting of Sethi after a worldwide search that held casting calls in New Zealand, England, Canada, India and all across the United States. So after this exhaustive search for the perfect Mowgli, where did Disney find the cute little boy above? New York. From the thousands who turned out to read for Mowgli, it was Neel Sethi, who will make his first foray into acting with The Jungle Book, who grabbed the eye of Favreau. In a statement, Favreau said of Sethi's winning the role:
Casting director Sarah Finn has helped pull together the cast of Favreau's Iron Man, Cowboys & Aliens, Iron Man 2, Chef and of course The Jungle Book. And she understandably echoes the director's enthusiasm for newcomer Sethi. She states:
Hopefully all these attributes will be enough to shoulder a movie largely on his own, as Neel Sethi will be the only actor of The Jungle Book who will be seen onscreen, and not replaced by a carefully created animated character.
Idris Elba, who has thrilled moviegoers as Stacker Pentecost of Pacific Rim and the accordion-playing Janek of Prometheus, will lend his gruff, spine-tingling tenor to Shere Khan, The Jungle Book's central villain - a deadly tiger. Oscar winner Ben Kingsley will portray the friendly black panther Bagheera, while recent Academy Award winner and 12 Years A Slave star Lupita Nyong'o will play Rakcha, the mother wolf who cares for Mowgli. Lastly, Favreau regular Scarlett Johansson will voice Kaa, the python with the hypnotic eyes.
The Jungle Book is slated to open on October 9th, 2015.
Staff writer at CinemaBlend.
Your Daily Blend of Entertainment News
Thank you for signing up to CinemaBlend. You will receive a verification email shortly.
There was a problem. Please refresh the page and try again.