Disney's Live-Action Snow White Movie Will Approach The Story From A Whole New Angle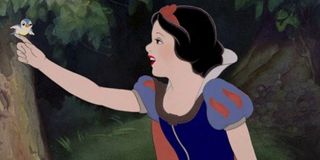 Fans of Snow White are not going to pleased. Following on from The Huntsman: Winter's War's decision to do away with Kristen Stewart's Snow White entirely in favor that film's supporting players, we've now learned that Disney's own live-action adaptation will instead primarily revolve around Snow White's sister, Rose Red, instead of the traditional heroine.
According to The Hollywood Reporter, Disney has decided to pick up this project after being hugely impressed by a pitch by Evan Daugherty based on Justin Merz's script. Usually overshadowed by her more famous sister, the character of Rose Red actually appeared in a number of The Brothers Grimm's fairy tales. None of these were related to Snow White And The Seven Dwarfs, which Disney iconically brought to life back in 1937.
However, while Justin Merz originally wrote a script for Red, which took a deeper look at Rose Red, that was intended to be its own stand-alone film. However, when Evan Daugherty read the piece, he immediately began to move the story towards the original animated film. Now it's been reported that the character of Rose Red has a "companion piece" feel.
This brand-new take sees Rose Red basically transported into the plot of Snow White And The Seven Dwarfs. In fact, Snow White is incapacitated for most of the story, because it kicks into gear when she takes a bite from a poison apple, which then leads to her falling into a Sleeping Death.
This is when Rose Red steps up to the plate, even though she has been estranged from her sibling for some time. With the help of Doc, Grumpy, Sleepy, Happy, Bashful, Sneezy, and Dopey, Rose Red embarks on a dangerous adventure and journey to stop the curse and also to wake Snow White from her eternal slumber.
It will be interesting to see how Rose Red fares. My initial worries are that it seems overly disassociated with Snow White to succeed, much in the same way that last year's Pan tried to take a sideways approach to the legendary character by introducing us to a younger Hook and Tiger Lily. However, it could just as easily turn out to be a very clever ploy from Walt Disney to tap into the Frozen market. While it might not be animated or possess such toe-tapping songs, the fact that Rose Red's plot has two sisters at its heart mirrors that of Frozen, and could, if handled right tonally, appeal to the same audience.
At the moment it's all guesswork though, but this is just one of several live-action films based on classic animated characters that Disney has in the works. Thanks to the success of Maleficent and Cinderella, the studio is currently developing a new take on Pinocchio, Cruella De Vil, a prequel to Aladdin entitled Genies, and a Prince Charming origin film, while Beauty & The Beast recently finished filming, and Jungle Book is due out in just a few weeks.
Your Daily Blend of Entertainment News
Your Daily Blend of Entertainment News
Thank you for signing up to CinemaBlend. You will receive a verification email shortly.
There was a problem. Please refresh the page and try again.