Disney's Live-Action Cinderella Has Made A Ridiculous Amount Of Money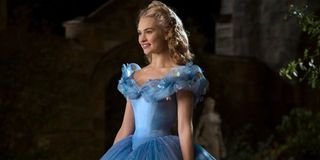 In a year ruled thus far by superhero mega-teams, fast and/or furious muscle cars stunts, and 50 shades of something, there's one movie that has taken a quieter, majestic, family-friendly path to box-office dominance. It appears that Disney's live-action rendition of Cinderella has managed to gracefully cross the $500 million mark with its global take.
It is being reported that the abrupt strike of midnight would not affect how long the Kenneth Branagh directed live-action Cinderella managed to stay at the box-office ball. Released on March 13th, the film is currently sitting at $502.4 million worldwide. The milestone crossing places it amongst some big company for 2015's highest global grossers at number four - just behind the still-growing numbers of Furious 7 at $1.4 billion, new entry, Avengers: Age of Ultron at $686.5 million, and February's Fifty Shades of Grey with $569.5 million.
The visually vivacious take on the classic Charles Perrault fairy tale that was famously adapted in 1950 as an iconic animated feature certainly seemed to find life on the big screen. Besides showcasing a classic story that seemed a no-brainer for parents armed with daughters still sporting their Frozen Anna and Elsa swag, the film also enjoyed the presence of enchanting ingénue Lily James as the titular step-family-tormented maiden who, with a little help of some timely Fairy Godmother magic, enraptures a handsome prince and ascends to regal reaches. Sticking to a tried and true formula that dared not reinvent the storyline wheel, it proved itself to be a generally well-received crowd-pleaser that clearly yielded financially favorable results.
If anything, the seemingly stealthy success of Cinderalla should serve to reinforce a current trend over at Disney, who already have an array of other fairy-tale-type features on their docket. Seeing no reservations with pilfering their library of long-esteemed animated classics, the movie maestros over at the House of Mouse have production well underway for 2017's Beauty and the Beast, with a cast of names like Emma Watson, Dan Stevens, Luke Evans, Kevin Kline and Josh Gad, that's shaping up to be quite formidable mix of dramatic and comedic talents. That, however, is just the tip of the franchise reboot iceberg, as live-action adaptations for Dumbo, Pinocchio and even Mulan are in the works, readying to accompany a barrage of fairy tale films to supplement the wave started by Cinderella and the recent Sleeping Beauty adaptation, Maleficent.
Certainly, it could be argued that Disney is playing things safe to the point of bordering on the banal. However, at least in the case of Cinderella, they have also proven that there is a place in the market for family-friendly films that don't involve CGI-concocted anthropomorphic absurdities who sing, dance and drop deluges of theme-inappropriate pop-culture references. While we're not likely to see Cinderella 2: Wicked Deadmother anytime soon, the film's success could also be interpreted as a positive for tastefully put-together, aesthetically enchanting films that forgo the conceit of poignancy and obligatory cynicism that seems to dominate just about the entire breadth of the fictional phalanx.
Your Daily Blend of Entertainment News
Your Daily Blend of Entertainment News
Thank you for signing up to CinemaBlend. You will receive a verification email shortly.
There was a problem. Please refresh the page and try again.