Disney's Live Action Cruella De Vil Movie Found The Perfect Lead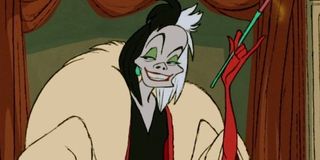 By now you're probably well aware that Disney is in the process of bringing many of their classic animated films into the live-action realm. Some appear to be pretty straightforward and faithful translations, like last year's Cinderella and 2017's Beauty and the Beast, but they're also spinning them off in different directions, telling these well-known tales from different perspectives, like with 2014's Maleficent. Well, now the villain from 101 Dalmatians, Cruella De Vil, is getting her own movie, and Disney may have found the perfect actress to play a young version of the baddie: Emma Stone.
According to The Hollywood Reporter, Emma Stone is in early negotiations to play the delightfully evil antagonist, a woman obsessed with capturing the expansive spotted family and turning the young pups into a coat, in a new movie simply titled Cruella. Kelly Marcel, who adapted 50 Shades of Grey and penned the Walt Disney-centric Saving Mr. Banks, is working on the script of what is said to be an origin story, and Aline Brosh McKenna (The Devil Wears Prada) tackled and earlier draft.
As this new live-action tale is set to explore the early days of Cruella De Vil, the casting of Emma Stone makes way more sense. We usually think of the iconic villainess as an older woman, corrupted by her power and money and privilege, twisted to the point where she thinks skinning puppies and turning them into clothes is a perfectly acceptable option. It will be interesting to see what approach the story takes to the character, if they paint her as a younger, more sympathetic character who undergoes something horrific that hardens her, or if she was always a greedy, entitled asshole.
This won't be the first time that Cruella De Vil has appeared in the flesh, as Glenn Close brought her to life in the 1996 version of 101 Dalmatians, as well as the subsequent sequel, 102 Dalmatians, in 2000. The character has also appeared on ABC's serialized fairy tale Once Upon a Time.
Right now there are no other actors attached to Cruella, nor is there a director in place at the moment, but it sounds like it shouldn't be too long before we start hearing about such things. With a lead locked in, should Emma Stone ultimately wind up in the role, and a script that is coming together, Disney has made this a priority. The THR report even indicates that the studio would like to start filming later this year.
In the meantime, we'll get the chance to see Emma Stone later in 2016 when she appears in Whiplash director Damien Chazelle's upcoming musical, La La Land, which sees her appear opposite her Crazy, Stupid, Love and Gangster Squad co-star Ryan Gosling. That movie opens July 15, while a release date for Cruella has yet to be set.
Your Daily Blend of Entertainment News