Disney Seeks Real John Carters For Contest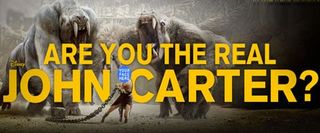 To celebrate the release of their soon-to-hit science-fiction tent pole John Carter, Walt Disney Pictures is calling out to all John Carters for their strangely specific contest: the Real John Carter Sweepstakes. If your name is John Carter, Jonathan Kharter, Jawn Kartar, Juan Cartir or one of the many other accepted variations, then you are uniquely eligible to score free tickets to a special John Carters-only advance screening of the movie as well as the chance to win a trip for two to Peru, courtesy of Adventures by Disney.
John Carter director Andrew Stanton attempts to make sense of this curious contest below, in a promotional video that also shares some CGI-enhanced footage of superpowers and extraterrestrial action:
So, if you are a John Carter or know one who has a taste for sci-fi and travel, register here for your chance to win. To see if your name qualifies on the "John Carter" verisimilitude scale, check the official rules.
Based on Edgar Rice Burroughs' novel A Princess of Mars from his popular space-traversing Barsoom book series, John Carter follows the adventures of its eponymous hero, a jaded Confederate captain (played here by Friday Night Lights star Taylor Kitsch) who is inexplicably transported to Mars. There he discovers his terrestrial biochemistry grants him incredible powers on the rugged terrain. Soon he runs afoul of some ornery locals, whose desire for war could destroy all life on Mars, and meets a noble princess who inspires him to save the day. Bryan Cranston (Breaking Bad), Mark Strong (Tinker Tailor Soldier Spy), and Willem Dafoe (The Hunter) co-star in the live-action debut of Oscar-winning animation director Andrew Stanton (Wall-E, Finding Nemo).
John Carter will hit theaters in 3D and IMAX 3D March 9th. To learn more about the film head on over to our Blend Film Database.
Staff writer at CinemaBlend.
Your Daily Blend of Entertainment News
Thank you for signing up to CinemaBlend. You will receive a verification email shortly.
There was a problem. Please refresh the page and try again.