Disney Is Turning This Quirky Book Into A Movie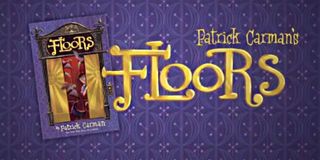 You know Charlie Bucket and his adventures in Willy Wonka's Chocolate Factory. Now Disney wants you to meet Leo Fillmore and step into his wild Whippet Hotel, which contains caves, ponds, ghosts, and even a flying farm room.
Deadline reports Walt Disney Pictures has purchased the rights to the Patrick Carman children's book series Floors. The books' author has been brought on as a producer. However, Carman has not been asked to draft the adapted screenplay. That responsibility goes to Jason Filardi, who pitched the project to Disney to begin with. Filardi's past credits include penning the 2009 Zac Efron/Matthew Perry comedy 17 Again and the 2003 Steve Martin/Queen Latifah laffer Bringing Down The House.
The title Floors might seem lackluster, and I'd be willing to wager Disney will give it a flashier final name before release. However, the premise is one that plays to Disney's forte, promising a fantastical environment and a family-friendly adventure.
The Floors book series centers on young Leo Fillmore, who--as the son of the building's janitor--thinks he knows every twist, turn and quirk to the Whippet Hotel. This includes a wide array of wacky guests, bonkers rooms, and an infestation of ducks. In the first book, Leo discovers there's even more to the Whippet than he imagined, when a series of mysterious boxes are left for him that lead him to hidden floors, curious puzzles and surprising new friends.
However, it sounds like the movie may center on a different character from the books. Deadline claims that the Floors movie will unfurl the tale of " an emotionally stunted son who inherits the coolest and craziest hotel in the world from his estranged and eccentric father." At first glance, it might seem that Leo gets an upgrade in the movie version, from janitor's son to heir of an incredible hotel. But check out this video from the book's author, and you'll see that this synopsis seems to be speaking to an entirely separate figure from the puzzle-loving Leo:
Patrick Carman tells us Merganzer D Whippet is the owner of the eponymous hotel, and it has been created by his father's wealth and his own inventive imagination. He sounds a bit like a certain eccentric chocolatier, doesn't he? Perhaps the movie will share focus between Wonka Whippet and young Charlie Leo.
To date there are three Floors books, so it's highly likely Disney is setting this adaptation up to be the start of a new live-action franchise. Deadline declares the execution of this adaptation will be in the vein of Night at the Museum and (surprise surprise) Willy Wonka and the Chocolate Factory.
We'll give you more news on Floors as it develops.
Staff writer at CinemaBlend.
Your Daily Blend of Entertainment News
Thank you for signing up to CinemaBlend. You will receive a verification email shortly.
There was a problem. Please refresh the page and try again.