Robert De Niro And Zac Efron Wanted For Roadtrip Raunchfest Dirty Grandpa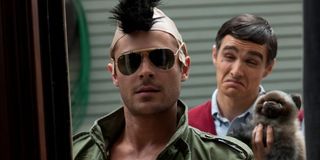 Zac Efron has had an intriguing year. At its start, he attempted to break from his Disney mold with the raunchy rom-com That Awkward Moment, which was a modest box office success but critically loathed. Then a few months later he earned wild praise as the maniacal frat boy at the center of the Seth Rogen vehicle Neighbors, which prove a major hit. Now, Efron could team up with screen legend Robert De Niro for a presumably R-rated laffer called Dirty Grandpa.
THR reports Robert De Niro is in talks to front Dirty Grandpa as its titular--well--dirty grandpa. Described as a "perverted former Army general," this grandfather convinces his engaged grandson (Zac Efron, also in talks) to drive him to Florida for Spring Break. But this roadtrip is all a ruse to give gramps time to convince his grandson not to marry the wrong woman.
The pairing of De Niro and Efron is a tricky one as both have had checkered pasts with comedy. Efron's we've touched on with That Awkward Moment failing, and Neighbors--which funny enough includes a De Niro impersonation--flying high. For his part, De Niro had success playing an unforgiving father-in-law-to-be in Meet The Parents, but that gag got old over successive sequels. Further complicating our expectations of this comedy is its director, Dan Mazer.
Dirty Grandpa will mark helmer Dan Mazer's follow-up to his directorial debut, the underwhelming rom-com I Give It A Year, which was led by Efron's Neighbors co-star Rose Byrne. Mazer is best regarded for contributing to the screenplays of such Sacha Baron Cohen vehicles as Borat and Bruno. But as a director, he's not exactly a promising prospect. Yet hit or miss comedic actors and an underdeveloped comedy crafter may not be Dirty Grandpa's biggest concern. That might just be audience exhaustion to this recently worn out plotline.
In the winter of 2012, Seth Rogen subjected us to the clunky road trip comedy The Guilt Trip, which paired a floundering young man with his smothering mother for cross-country shenanigans. The following fall, the Jackass crew upped the stakes by teaming a debauched grandfather with a foul-mouthed 8-year-old grandson for Bad Grandpa. And just this past summer Melissa McCarthy threw her star power behind the dark comedy Tammy, which followed a foul-mouthed and floundering woman on a road trip with her alcoholic and abusive grandmother. By the time Dirty Grandpa finally rolls into production, moviegoers may feel rundown on this route of road trips.
This poll is no longer available.
Your Daily Blend of Entertainment News
Staff writer at CinemaBlend.