This Is How Disney Sunk David Fincher's 20,000 Leagues Under The Sea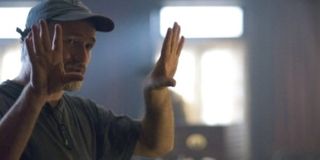 As one of modern American cinema's greatest directors, you can't help but get excited when David Fincher starts work on a new project. Unfortunately, for all the Fincher-aholics out there, it looks as though his proposed remake of 20,000 Leagues Under The Sea has hit a snag after he revealed that his casting choices for the nautical epic have forced Disney to reconsider the film.
During a rather incredible chat David Fincher had with Little White Lies, which saw the Social Network and Fight Club filmmaker discuss a wide variety of cinematic topics, Fincher was asked if he'd ever had a mega, multi-million dollar blockbuster offered to him.
After at first insisting, "I don't think anyone would come to me with a money-is-no-object proposition," Fincher then recalled how he had been ready to go out to Australia to film a remake of the 1954 Disney adventure, 20,000 Leagues Under The Sea, but then studio interference, especially regarding the film's cast, soon deterred his involvement.
Fincher didn't go as far as to name any of the thespians that Disney rejected, but he did reveal that they balked at his request to make the main character, Professor Pierre Aronnax, French – which is exactly what his nationality is in Jules Verne's novel. This was followed by numerous other "confusing" disagreements that then led to him jumping ship. Fincher confessed:
Fincher's departure from 20,000 Leagues Under The Sea is yet another example of a bona-fide, brilliant director struggling to get an ambitious project off the ground. This news comes after it was announced yesterday that Ang Lee had to turn to a more intimate film as the budget for his 3D take on the Thrilla In Manila got a tad out of hand. It's becoming depressingly regular that proven filmmakers now have to shelve passion projects because studios are only concerned about the amount of money they will generate, rather than if it will actually make a good film. And it's the audience who ultimately suffers because of this. If I was an emoticon kind of guy, this is where I'd put at least 16 frowny faces.
Your Daily Blend of Entertainment News
Thank you for signing up to CinemaBlend. You will receive a verification email shortly.
There was a problem. Please refresh the page and try again.