Do Not Ask George Miller About The Next Mad Max Sequel Yet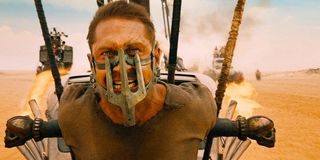 Mad Max: Fury Road has already being labelled by some as the best action movie of the year. Heck, some critics have even gone as far as to insist that it's the best blockbuster ever made! While that could ultimately prove to be hyperbole it instantly means that intrigue and anticipation over the flick is at a fever pitch. Which, in turn, means that chatter over a possible sequel was inevitable. But George Miller isn't ready to entertain such a discussion yet. In fact, it sounds as though all the writer and director really wants to do is go to sleep.
The Australian filmmaker is currently at the Cannes Film Festival to wax lyrical about his dystopian franchise, and with fervour over the film reaching its zenith thanks to the wave of critical acclaim that has come its way over the last few days, Miller was constantly being probed about a follow-up. And after being asked such a question by Empire, George Miller explained just why he is ready to even consider one.
While some mothers might resent child birth being considered to production on a $150 million blockbuster, the analogy totally works. And by all accounts, after a long, back-breaking and arduous production in the Namibian Desert and Western Sydney for Mad Max: Fury Road, which actually began in July 2012, was completed in December 2012 only to undergo mammoth reshoots and post-production, George Miller appears to have created one hell of a beautiful, if rambunctious, baby.
And during the press conference at Cannes on Thursday morning Miller just couldn't help but constantly bring out the labour metaphor when quizzed about a sequel. After being asked about the potential story for another film, Miller teased, "If we get the appetite again to go back out into the wasteland, there's other films we want to do. That's the answer I can give this moment, now: I've just come out of labour."
Basically, it sounds as though if there is going to be a Mad Max: Fury Road follow-up then it won't be for several years. Especially when you take into consideration that it took George Miller close to two decades to get the fourth installment to the franchise written, funded, shot and ultimately released. Plus, who knows, it could even be a financial flop at the box office, which would make it even harder for a new film to be greenlit. At this point the latter doesn't seem likely though. Either way, those of you who are eagerly clambering for such an effort will just have to repeatedly devour Mad Max: Fury Road once it's released on Friday. Which, let's face it, sounds like it's going to be a necessity anyway.
Your Daily Blend of Entertainment News
Your Daily Blend of Entertainment News
Thank you for signing up to CinemaBlend. You will receive a verification email shortly.
There was a problem. Please refresh the page and try again.