How Mad Max Trained Its Actors For The Apocalypse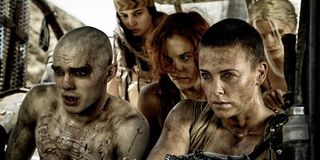 The long-awaited sequel, Mad Max: Fury Road, appears to be a pulse-pounding, adrenaline-filled tour-de-force of intense, post-apocalyptic action. Yet, the situation of Tom Hardy's stoic title character won't be the only dramatic dilemma in focus. The film has Max rescuing a group of traumatized young women, and apparently the services of the playwright behind The Vagina Monologues was recruited to help the actresses convey their characters' scarred psyches.
In an interview with Esquire, Rosie Huntington-Whiteley, who plays Splendid, one of the five ladies Max helps liberate, discusses the unconventional measures George Miller used to instill depth to their characters. Eve Ensler, playwright of The Vagina Monologues, was reportedly brought on board Fury Road as a consultant, helping the actresses understand the trauma of their characters. As Huntington-Whitely explains of Ensler:
In Fury Road, Max joins forces with a mysterious mechanical-armed woman with a badass grimace named Imperator Furiosa (Charlize Theron) in an attempt to rescue the aforementioned women from the gas mask-sporting, post-apocalyptic overlord Immortan Joe (Hugh Keays-Byrne.) Yet, there is something to these girls that represents more than just a misbegotten marriage to the vile villain, as they are each apparently an integral ingredient to the survival of humanity as a whole. Thus, as characters critical to the very plot of the film, the weight of their horrific ordeal represents a large part of the film's dramatic conveyance.
Of course, the very serious, real-life motivation that has been instilled into Huntington-Whitely and the other actresses will be complemented by plenty of devastating desert explosions and spectacularly surreal skirmishes that, as the trailers show, are inventive and immense. While it might seem to be a parallel that could be interpreted as offensive, it seems to serve as a strong dramatic nucleus to a film that's clearly looking to be an excessively brutal, unapologetically over-the-top action romp.
For Huntington-Whitely, a former Victoria's Secret model whose only other acting credit is as Shia LaBeouf's pouty-lipped girlfriend in 2011's Transformers: Dark of the Moon, this role in Fury Road might manifest itself as a huge dramatic jump. While her role as one of the embattled wives designates her as part of an ensemble that seems to collectively serve a single purpose, it's a far cry from her days standing in front of the camera so Michael Bay can shoot sexy slow-motion shots amidst buildings pasted with product placement being crushed by giant robots.
Mad Max: Fury Road looks to serve as the killer catalyst to more movies in the revived series when it hits theaters with the subtlety of an Aussie-accented marauder on May 15.
Your Daily Blend of Entertainment News
Thank you for signing up to CinemaBlend. You will receive a verification email shortly.
There was a problem. Please refresh the page and try again.