Doctor Strange Has Officially Found Its Leading Lady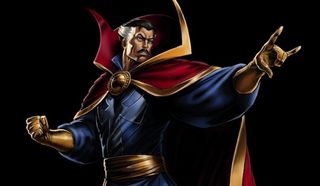 There aren't any big comic book movies coming up in the last few months of 2015, but when 2016 hits, it will bring a veritable tidal wave of superheroes from Marvel, DC, and Fox. So many grown ups running around in tights. One of the characters we're most excited to see is Marvel's Sorcerer Supreme when he shows up in Doctor Strange next fall, and while we knew Beneict Cumberbatch will play the title character, we now know who his leading lady will be.
According to The Wrap, Rachel McAdams confirmed the rumor that she will star in Doctor Strange while talking to them at the Toronto International Film Festival. While this rumor has been making the rounds for the last few months, and the True Detective Season 2 star has never played demure when it comes to revealing that she was in fact in discussions for the part, which now appears to be all hers.
What we don't know, however, is what exactly the nature of her role is. We speculated about it a bit back when McAdams' involvement was first rumored, but we don't know for sure. She could be Clea, who is Doctor Strange's most notable love interest in the comics, not to mention related to some of his most powerful adversaries; though there are other notable female characters within his purview, including Victoria Bentley and Morgana Blessing, or it's possible McAdams could play a wholly original character, one specifically cooked up for the MCU.
Directed by Sinister helmer Scott Derrickson, Rachel McAdams joins what has quickly become a fantastic cast. Along with Benedict Cumberbatch in the lead role, the call sheet also includes Chiwetel Ejiofor as Baron Mordo, and Tilda Swinton playing Stephen Strange's mystical mentor, the Ancient One. We're very curious about this role, as the character is traditionally male, and Swinton is obviously a woman; and while the initial reaction is to assume the gender has been swapped, there were also rumors going around that Swinton could play the character as male, so it will be interesting to see what happens there. Additionally, Hannibal star Mads Mikkelsen will also play an adversarial role in the film.
Moving into Phase 3 of the MCU, Doctor Strange will reportedly continue to expand the boundaries of the movie world, much like how Guardians of the Galaxy and Ant-Man tried to bring something different to the slate of films that are often criticized for being overly homogenous. In pursuit of that goal, they've certainly put together a fantastic team of creative in front of and behind the cameras.
Doctor Strange will begin shooting this November, and hit theaters on November 4, 2016.
Your Daily Blend of Entertainment News