Tilda Swinton Considering A Major Change For Doctor Strange's The Ancient One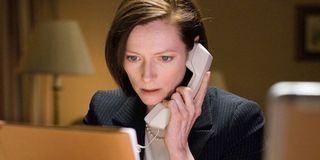 As an actress, Tilda Swinton is known for being chameleonic. She's damn near unrecognizeable in her latest movie, Trainwreck—multiple people here saw the film and didn't realize it was here until much later. She's already bringing one major change to her role as the Ancient One in Marvel's Doctor Strange—the character has always been a man—but in typical fashion for her, it's even more complicated than that.
There was a stir when Swinton was cast in the part and it appeared that the role had been switched from a man to a woman. However, according to The Guardian, she hasn't yet decided what gender the character will be. The report says:
The fact that Swinton could choose to play the part of the Ancient One as either a male or female isn't actually terribly surprising. It's an interesting, unusual approach, but over a career that has seen her play everything from asexual angels to ageless vampires to a tanned and vicious men's magazine editor, just to name a few, she's never taken the easy, expected path.
Swinton is also well known for being somewhat androgynous. It's just as common for her to show up on the red carpet looking super feminine in a stunning, elegant gown as it is for her to arrive in a sharp, severe man's suit and close-cropped hair. She once said she'd rather ben handsome like her father, a military officer, for an hour than pretty for a week.
Maybe even more curious than Swinton's approach to the role is that Marvel is allowing her the freedom to handle it like this. With a character like the Ancient One, gender is, realistically, largely irrelevant, but the studio is known for wanting to keep meticulous control over just about every element. It seems unusual that this is even up for discussion, but perhaps that was discussed up front and is part of why Swinton took the part.
The Ancient One was originally born more than 500 years ago in Tibet and reigns as the Sorcerer Supreme. Eventually he/she meets Stephen Strange and takes him on as his apprentice, teaching him the ways of magic and eventually passing the Sorcerer Supreme mantle on to him. This is a superhero backstory, so it's obviously way more complex than that, but you get the picture.
Directed by Sinister helmer Scott Derrickson and starring Benedict Cumberbatch, Doctor Strange, with Tilda Swinton as the Ancient One, hits theaters November 4, 2016.
Your Daily Blend of Entertainment News