Does Brett Ratner Deserve To Be Fired From His Oscars Job?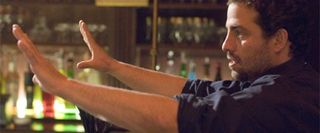 Usually the kind of gaffes that can derail the Academy Awards are the ones that happen up onstage, when someone misreads a teleprompter or, in one memorable case, a streaker goes running by. But Brett Ratner, set to be the producer of next year's show, will probably spend very little time on the actual Oscars stage, but he's already managed to make a big gaffe anyway. He's fessed up and apologize for an incident over the weekend when, asked about rehearsals for his new movie Tower Heist, he waved his hand dismissively and said "Rehearsing is for fags."
Ratner has apologized, and now The Academy has released a statement (via The Wrap) that's the equivalent of a parent apologizing on behalf of their child: "Brett is very very sorry, and we're sure he'll never do it again." Here's the actual text of the statement:
If you've followed Brett Ratner and the number of dumb or hurtful or boastful things he's said over the years, though, this is essentially the Academy just seeing the true colors of the man they hired. I mean, last June, just two months before he was brought in to produce the Oscars, Ratner took to his Twitter account to boast about the box office numbers for X-Men 3: The Last Stand, as if that critically loathed movie was somehow being threatened with the existence of X-Men: First Class. And just last week, right before the "rehearsing is for fags" incident, Ratner went on the Howard Stern show to apologize about talking about sleeping with Olivia Munn…. only to go on to talk about sleeping with Lindsay Lohan, "When she was really young."
If the Academy is being honest with themselves, this kind of nonsense is why they hired Ratner. They're looking for someone with a younger, more provocative personality, miles away from the stuffy Oscars that young men-- Ratner's bread and butter audience-- wouldn't watch to save their lives. Ratner's public statements lately make him sound better suited as a producer of the MTV Video Music Awards, but that's not entirely at odds with what the Academy wanted from him. They'd rather he stop before uttering gay slurs in public, of course, but sometimes that's the price you pay for buying your way into somebody else's sense of frat boy cool.
The Academy is probably entitled to fire Ratner for running his mouth and for showing the kind of judgment that doesn't translate well to running one of the year's most-watched TV programs. But if and when they write the statement to throw him under the bus, I hope they're honest with themselves-- this is exactly the Brett Ratner they hired. They probably should have known to see this coming.
Staff Writer at CinemaBlend
Your Daily Blend of Entertainment News
Thank you for signing up to CinemaBlend. You will receive a verification email shortly.
There was a problem. Please refresh the page and try again.