Does Marvel's Doctor Strange Already Have A Composer?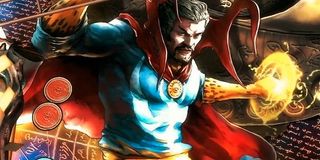 While Sherlock star Benedict Cumberbatch was busy dodging Doctor Strange rumors during the Dreamworks panel, composer Christopher Young let a few tidbits slip on the upcoming superhero film in the middle of "Behind the Music: Crime, Death and Resurrection." The panel consisted of six film and television composers - Jeff Russo (Fargo), James Levine (American Horror Story), Daniel Licht (Dexter), Brian Reitzell (Hannibal), Steve Jablonsky (Transformers franchise), and Young (Deliver Us From Evil) - discussing their work on various projects. During the conversation, the frequent Scott Derrickson collaborator commented on his possible involvement in the director's 'Marvellous' next project.
"Behind the Music: Crime, Death and Resurrection," moderated by Salem's Shane West, was an entertaining look into the world of scoring film and TV (and video games, which is apparently the most secretive of all mediums), but the highlight was when Young hinted that he might be continuing to collaborate with Scott Derrickson on the director's next project. I don't think he realized the veil of secrecy that is supposed to come with such a project, so I thought I'd try and squeeze some more information out of him during the Q&A. And dish he did. Responding to my question about his involvement with Doctor Strange, Young said,
I don't think I could say it better than Shane West, who remarked "how's that for a soundbite?" Pretty good, Mr. West. Pretty good. I mean, it's not as exciting as the possible announcements that will be made during the Marvel Studios and Warner Bros. panels on Saturday (you know, like whether or not Benedict Cumberbatch is playing Stephen Strange) but it's still some information I wasn't expecting to hear during the music-based panel. And this wouldn't be Young's first superhero movie either, with both Spider-Man 3 and Ghost Rider on his resume. Okay, so that's not a ringing endorsement, but he's worked on over 100 projects so let's not hold his feet to the fire over those. Let's just focus on his three collaborations with Derrickson.
Your Daily Blend of Entertainment News
Thank you for signing up to CinemaBlend. You will receive a verification email shortly.
There was a problem. Please refresh the page and try again.