Don Cheadle's Miles Davis Biopic 'Miles Ahead' Finally Ready To Start Shooting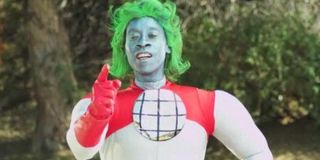 For years, Don Cheadle has toiled on his Miles Davis biopic, hoping to get it in front of screens for a general public that has too little awareness of the jazz musician. Even the previously revealed involvement of Ewan McGregor and Zoe Saldana wasn't t enough to get the project going. But it seems as though a title change was all that the project needed to get Cheadle's hopes realized, and it appears Miles Ahead is scheduled to start shooting fairly soon.
The Greater Cincinnati & Northern Kentucky Film Commission (opens in new tab) has announced that Miles Ahead will begin filming in July, with Cheadle, McGregor and Saldana all part of the cast and working under Cheadle's direction. The new title of the project is a fairly significant shift from Kill The Trumpet Player, the original title that ultimately did not convey that the movie was telling the story of Miles Davis.
The film sounds a bit like plausible fiction, centered on a brief period of time when Davis (Cheadle) and a Rolling Stone writer (McGregor) conspired to steal Davis' work from gangsters who had claimed ownership of the material. Cheadle, a former Grammy nominee for a song on the Hotel Rwanda soundtrack, is an accomplished musician, though stepping into Davis' shoes must be overwhelming. Only making things more difficult is that he is also the project's producer and director, as he's never been behind the camera for anything beyond an episode of his Showtime series House Of Lies. As though this project wasn't Cheadle-powered enough, Miles Ahead's script was also co-written by the star (along with Steven Baigelman).
The market for black music biopics is big: this summer sees the release of the Baigelman-penned Get On Up, about the life of James Brown, which looks to follow up on the success of films like the $124 million-grossing Ray. Sometimes these films don't connect, like in the case of Cadillac Records, which boasted the music of Etta James, Chuck Berry and Muddy Waters. But Cheadle, soon to be seen in The Avengers: Age Of Ultron, will be a very big presence by the time this hits screens.
Davis was a jazz pioneer who entered the Rock And Roll Hall Of Fame in 2006, fifteen years after his passing. While not many people today have a favorite Davis recording, it's undeniable that his fingerprints are found on most examples of 21st century popular music. We highly recommend that you put up your feet and take some time out of your schedule to groove out to Bitches Brew, one of the most dynamic records ever made. Listen below.
Your Daily Blend of Entertainment News
Thank you for signing up to CinemaBlend. You will receive a verification email shortly.
There was a problem. Please refresh the page and try again.