Drafthouse Films Distributing Jean Dujardin's Awesome-Sounding Le French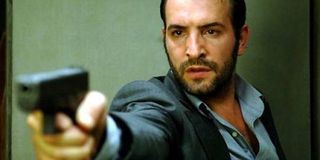 Overseas, Jean Dujardin is the coolest cucumber around. Domestically, however, despite a Best Actor Oscar, Dujardin is just another handsome French actor, albeit one who stole the show in The Monuments Men and The Wolf Of Wall Street. Thanks to Drafthouse Films, however, that's looking to change. Jean Dujardin's about to hit our shores in the Frenchiest French movie that ever Frenched, La French.
Drafthouse Films has announced they've nabbed the domestic distribution rights for the actioner, which showcased an eight minute sizzle reel at Cannes. Drafthouse Films CEO and founder Tim League awesomely says, "One of our goals is to get young audiences excited about foreign language film... We combed the market and devoured the official selections. Nothing excited us more than La French." Foreign films are behind the eight ball: U.S. box office for the top five foreign films has declined by 61% over the last seven years, according to this Indiewire piece, and too many of them are simply providing fodder for English-language remakes. League is doing God's work, folks.
La French is a period piece set in the 1970's, based upon the story of the judge who dedicated his life to bringing down the French Connection. The French Connection, for those of you not up on your drug history, was an elaborate, decades-old method of trafficking heroin from Turkey to France, and then through Canada into America. This procedure was almost singlehandedly responsible for the bulk of heroin abuse in America during the sixties and seventies, particularly in New York City. And hey, they even made a movie about that. You should see it sometime.
Jean Dujardin will be co-starring with Gilles Lellouche, the star of Gaelic hits Little White Lies, Point Blank and Tell No One. Cedric Jimenez is directing, and the film is being shot in 35 MM, with select theaters in America (likely Alamo Drafthouses) showcasing not only the film in that format, but a block of trailers for a host of other French crime thrillers, some of which seem to be inspiring this latest film. Drafthouse has also planned a vintage VHS release of the film for home distribution, a unique gesture that speaks to the legacy of the genre.
La French is likely indebted to the poliziotteschi genre, a type of crime film that emerged out of Italy and inspired the gritty American crime films of the sixties and seventies. They often made these films in France as well, and often they were featuring notable American actors and filmed without sound, later dubbed into another language in the style of spaghetti westerns. These films were often seedier, more violent, and more profane than their American counterparts, sharing the common thread of a bleak outlook on life and an absolutely jamming soundtrack provided by the likes of Stelvio Cipriani, Guido & Maurizio Angelis or even Ennio Morricone. Hopefully, La French sounds just as awesome.
Your Daily Blend of Entertainment News
Thank you for signing up to CinemaBlend. You will receive a verification email shortly.
There was a problem. Please refresh the page and try again.