Drafthouse Planning The Perfect Middle-earth Tribute For Hobbit And Lord Of The Rings Fans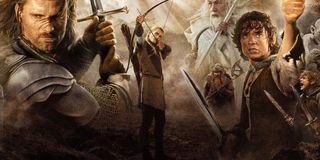 With the release of The Hobbit: The Battle of the Five Armies on December 17th, the chapter of our lives that revolved around new Middle-earth releases has officially closed. However, the Alamo Drafthouse theater in Austin has one more trick up its sleeve to get you excited about our final film journey into Peter Jackson's Middle-earth. On New Year's Day, Hobbit and Lord of the Rings fans can spend an entire day watching Jackson's entire Middle-earth saga on the big screen. Yes, you read that correctly. Fans in the Austin area can spend literally their entire New Year's Day in Middle-earth.
Obviously, showing the six films back-to-back is a movie binge that will last approximately 1200 minutes is a pretty serious venture, and spending a day in a movie theater would be pretty unenjoyable if you only had popcorn, candy, and soda to tide you over. Luckily, this is the Drafthouse we're talking about, so they have some pretty great food planned for the marathoning moviegoers. Alamo Drafthouse will be providing moviegoers a nine course feast. Here is the quest-worthy, hobbit-approved menu that will await moviegoers:
Pippin would be so proud. Finally, someone remembered second breakfast.
Drafthouse theaters around the country usually have a Lord of the Rings feast every New Year's where fans can snuggle in for the original Middle-earth trilogy and some tasty treats. However, showing all six of Jackson's films will certainly be an epic adventure (thank goodness they are not showing the extended versions--the marathon would last days if they did that). For the time being, it looks like this will only be happening at Austin Drafthouse theaters. If you aren't located in Austin, you can check with your local Alamo Drafthouse to see if you will get to participate in the awesome food and movie binging.
If you do want to catch the Drafthouse marathon (and they haven't yet sold out), a ticket to the movie and the feast will set you back $145.00, and $175.00 to add a beverage. Should you not have a Drafthouse near you, or you can't participate in the Austin Middle-earth movie watch-a-thon, you can still have a Middle-earth filled New Year's by checking out The Hobbit: The Battle of the Five Armies, in theaters now.
Your Daily Blend of Entertainment News
Thank you for signing up to CinemaBlend. You will receive a verification email shortly.
There was a problem. Please refresh the page and try again.