Drinking Buddies' Anna Kendrick, Olivia Wilde And Jake Johnson Talk Improv, Skinny Dipping At SXSW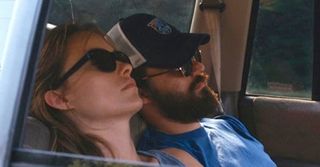 Actors and directors often say that the script is king. Haven't you seen movies that – despite rich potential – fly off the rails? The issues often can be traced back to a script issue, a plot hole that swallows all effort and can doom even the most noble of projects.
Joe Swanberg swears by a different philosophy. The grassroots writer-director behind Hannah Takes the Stairs, Uncle Kent and V/H/S prefers not to lock his cast into a fixed screenplay, opting to let them react to conversations and emotions, which allows his dramas to live in the moment. It's the use of improvisation to search for the beating heart of a particular story helps Swanberg's latest, Drinking Buddies - which held its world premiere at the South By Southwest Film Festival on Saturday night - stand apart from traditional romantic comedies.
The movie boasts Swanberg's most recognizable cast, exploring one of his most accessible character studies. It tells the universal story of an endearing yet mismatched couple, played by Anna Kendrick and Jake Johnson, who are tested by the temptations of infidelity when they begin interacting with a second couple, played by Olivia Wilde and Ron Livingston. Though Swanberg puts his foursome in familiar scenarios – a joint vacation at a secluded beachfront cabin; work events at the brewery that employs Wilde and Johnson – his reluctance to put words in his characters mouths allows Drinking Buddies to go down unexpected avenues as it searches for its truths.
Following the screening on Saturday night, I attended a private meet-and-greet with Swanberg and his cast and learning how liberating the director's unconventional approach was to the actors helped me better appreciate the magic that's captured in the loose, free-flowing but authentic film . "Putting dialogue in somebody else's mouth has always felt strange to me," the director told us - though the cast was quick to point out that Swanberg always had a strong vision about where he needed his story to go. The performers just had more leeway than usual in how they arrived at their destination.
Drinking Buddies, according to Swanberg, was written as a woman's story because, in his eyes, the industry doesn't attempt to write enough from the perspective of a female protagonist. He says that he wanted to watch this story play out to learn how women would react to temptations in their relationships. As the story unfolds, Kendrick and Johnson are presented opportunities to cheat. You might be shocked by who caves and who resists, but it's the fallout from the relationships that gives the movie its narrative spine.
The cast added that the lack of a solid script was daunting. "I was scared shitless," Kendrick told us, confessing to being a very organized performer who feared that she wouldn't have enough original ideas to bring to the table once it came time to improvise.
Wilde had similar concerns going in, though both actresses eventually realized that there's far more power in prolonged silences, and they realized they needed less "ideas" and more time just to listen and respond to make Buddies work as well as it does. She also explained how stimulating it was to improvise whole scenes with a versatile comedian like Johnson, and admitted to feeling like she'd blacked out during lengthy scenes because she was so lost in the moment and was giving it everything that she had to make a scene work.
"I hardly remember the process," Wilde said, with a hint of awe in her voice. She added that she watches scenes in the finished film and doesn't remember saying chunks of the dialogue. But since Swanberg only allowed his cast two or three takes of every scene, there was an added pressure to make a moment work quickly, before it was time to dash off to the next sequence.
Wilde also recalled the filming of a late-night beach scene where she explained to Swanberg that, in the moment, her character would desperately want to go skinny dipping… which led to a revealing scene. Yet when Johnson tried to convince Swanberg that his character likely would strip down and follow this beauty in to the ocean, his "improv" was denied for the benefit of the overall story.
Swanberg said it was his experience working as an actor on the horror film You're Next that inspired him to expand his vision and try something more complicated with Drinking Buddies. He watched director Adam Wingard pur his heart and soul into that film, and he wanted to mirror that level of dedication. He points to this film as an epiphany moment, saying he better "respects and values" the trust factor between the director and his audience. It shows on screen.
Swanberg's process sounds terrifying, but the cast swears that Drinking Buddies was the most creative, liberating and inspiring experience they've recently enjoyed. Kendrick told us she actually shot a second film with the director in December, and added that she hasn't filmed an actual scripted film since working with Swanberg.
"So I'll tell you if I'm ever able to go back," she joked
"I probably ruined you," Swanberg replied.
Livingston summed it up best when he said, "It really shouldn't work," but something in Swanberg's process helps his cast members to create films that are unique, special and unlike most of what we see on screen.
For more of our SXSW 2013 coverage, click HERE.
Sean O'Connell is a journalist and CinemaBlend's Managing Editor. He's frequently found on Twitter at @Sean_OConnell. ReelBlend cohost. A movie junkie who's Infatuated with comic-book films. Helped get the Snyder Cut released, then wrote a book about it.
Your Daily Blend of Entertainment News
Thank you for signing up to CinemaBlend. You will receive a verification email shortly.
There was a problem. Please refresh the page and try again.