Drive's Nicolas Winding Refn Producing A Prequel To Maniac Cop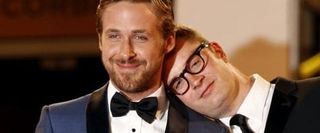 Nicolas Winding Refn is quickly becoming one of the biggest names in independent film, after breaking out with his Danish action films The Pusher Trilogy, moving on to the bruising, inventive, pseudo-biopic Bronson, and then practically setting the world on fire last fall with Drive. OK, sure, Drive barely made any money, it got nominated for precious few awards, and not every critic thought it was the greatest thing to ever happen to cars and Los Angeles. But plenty did, enough to put Drive on their list of the year's 10 best films, and to put Refn on nearly everyone's radar as an up and coming director worth watching.
Refn has already moved on to his next project, reuniting with Drive's Ryan Gosling for Only God Forgives, a crime-filled drama currently shooting Thailand and apparently beating the snot out of Gosling. But even though he's just now getting his start as a big-name director, Refn is already lending his name out as a producer as well. Daily Grindhouse learned in an interview with William Lustig and Larry Cohen that Refn will be joining the two of them to produce a prequel to Maniac Cop, the 1988 action/horror film starring Bruce Campbell as a young cop on the trail of the titular killer. It's a lesser-known title but one popular enough to earn two sequels and a Blu-Ray release, and now Lustig-- who directed the original film-- and Cohen, its screenwriter, are ready to revive it.
It's unclear how involved Refn will be, or what the story will involve other than a "bigger budget" than the previous films, but Refn's name definitely adds another level of interest here, making it more than just two guys trying to revive a movie from their heyday. As someone who could barely handle the level of violence in Drive, I'm not really in the target audience for this revival-- but if you are, let your excitement be known in the comments.
Your Daily Blend of Entertainment News
Staff Writer at CinemaBlend
Your Daily Blend of Entertainment News
Thank you for signing up to CinemaBlend. You will receive a verification email shortly.
There was a problem. Please refresh the page and try again.