Duncan Jones Suggests He Could Follow Warcraft With Sci-Fi Thriller Mute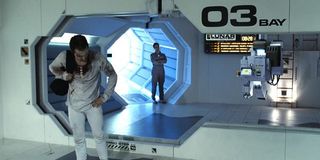 Duncan Jones is one of the most promising young filmmakers in Hollywood. After making his debut with Moon and following it up with Source Code, he's now wrapped up in Warcraft, the big fantasy adaptation slated for March 2016 - and after that, who knows how many sequels and spinoffs he'll be attached to. Of course, maybe Jones is just using the goodwill from the video game movie to pursue one of his passions, specifically Mute , a project he started developing a long time ago.
Straight from Jones' Twitter, he gives an update on the film that might just be wishful thinking, or it could be much more.
Does Mute live? and what is Mute? Jones' sci-fi script has bounced round Hollywood for while, set in a futuristic Blade Runner-esque world where a woman disappears in Berlin, forcing her close associate, a mute bartender, to enter a world of crime to find her. Jones' original plan was to turn the film into a Dark Horse comic , ideally to revisit and actually film it at a later point... but Warcraft was an offer the son of David Bowie (uh-huh!) couldn't refuse.
Unfortunately, such are the the limitations of contemporary Hollywood financing, as Jones couldn't find funding for his practical future sci-fi world (this coming after his audacious low budget debut Moon and its follow-up, the $147 million-grossing Source Code). He couldn't even get away with calling it a sequel in a cheap funding ploy: Mute was intended to be the second film in a loose trilogy that started with Moon with Sam Rockwell intending to return in a cameo to bridge the considerable gap.
Then again, maybe it's only a matter of time before Jones is swallowed by the world of franchises and has to do a superhero film or a Star Wars saga movie/spin-off. Maybe Mute falls by the wayside, and Jones pursues other options: his many interviews link the film to Blade Runner, which sounds phenomenal, but you try getting something like Blade Runner greenlit in today's economy, even with a star as big as Harrison Ford. Hell, you can bet that one or two people behind the Blade Runner sequel are quietly saying, "But let's make this one a bit livelier than the last one, kay?" Warcraft opens on March 11th, 2016. Let's hope this is finally the movie that forces Duncan to give his dad a call in the hopes of scoring a theme song. NOTHING would be cooler than a David Bowie theme song.
Your Daily Blend of Entertainment News
Thank you for signing up to CinemaBlend. You will receive a verification email shortly.
There was a problem. Please refresh the page and try again.