Eddie Murphy Doing Another Nutty Professor And Even He Isn't Sure It's Funny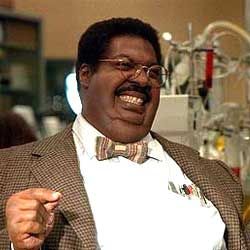 Eddie Murphy is planning another Nutty Professor sequel. Yeah I thought we were safe too. But back in 2000 Nutty Professor II: The Klumps made $166 million worldwide and if there's one thing we know for certain about Eddie Murphy it's that he's all about money, and pretty much nothing else.
Eddie revealed his plans to fart us all to death with another round of obesity comedy to Access Hollywood. He says, "You know what, there might be another 'Nutty Professor." Why? He explains, "We kind of wrote something that might be kind of funny." Not exactly a ringing endorsement. Eddie sounds as beaten down by the whole idea as we are. He doesn't even know if it's funny anymore but he'll do it, for some reason.
Of course he'll only do it if someone pays him to and whether or not this happens hinges on whether there studio suits are willing to give him the money. Eddie says, "If you don't see it, the studio was like, 'This isn't funny.'" I don't think it matters whether or not it's funny, the last one wasn't, and that didn't seem to hurt it any. It just depends on whether the studio thinks there's any life in a franchise that wore out it's welcome more than ten years ago and, truth be told, in the interim hasn't been missed. They'd be better off doing another Norbit. I can't believe I actually said that.
Your Daily Blend of Entertainment News