Eddie Murphy Quits Oscar Hosting Gig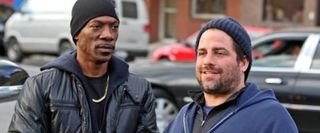 I wrote this morning that the worst decision Eddie Murphy could make would be to step back from hosting the Oscars now that Brett Ratner is out as producer; turns out, he's done it anyway. The Academy has announced in a press release that Murphy ha withdrawn as the host of next year's awards, giving out this gracious but deliberately vague statement:
It's not hard to predict why Murphy withdrew-- a notoriously press-shy actor who's done essentially nothing but vanity projects for the last decade or so ( save Dreamgirls), Murphy was likely resistant to hosting the show in the first place, and agreed to do it only thanks to his working relationship with Ratner. With Ratner gone, the respect and visibility Murphy would get from hosting the show probably isn't enough to keep him on board. Eddie Murphy earned the power long ago to work only with those he chooses, and it seemed unlikely the Academy would be able to choose another producer with the sway to keep Murphy in the fold.
So now, with a little more than three months to go until showtime, next year's Oscar ceremony is back at square one. All bets are off! Anybody could host! Anything is possible! We can hope that sense of possibility inspires the Academy to think smart and stick to what they do well, but as we all know, their desire to attract younger and newer viewers can lead to some dumb, dumb decisions (like hiring Brett Ratner in the first place, you might say). Its hard to imagine they'll find someone funnier than Murphy to find his place, but here's hoping their next picks for producer and host are at least a little less volatile.
Staff Writer at CinemaBlend
Your Daily Blend of Entertainment News
Thank you for signing up to CinemaBlend. You will receive a verification email shortly.
There was a problem. Please refresh the page and try again.