Is Ehren Kruger Replacing Kevin Williamson And Ruining Scream 4?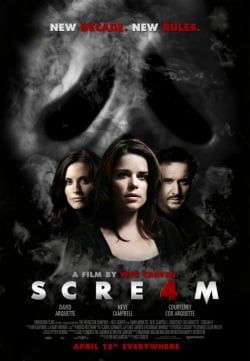 The cast of Scream 4 has been a veritable revolving door lately, with Lake Bell and Lauren Graham dropping out at the last minute and Marley Shelton, Adam Brody Alison Brie and Mary McDonnell coming on board to make up for it. This could all be explained away by bad luck, but as it turns out there might be one specific person to blame for all this turnover: Ehren Kruger.
According to Zap2It and their source close to the production, Kruger has come on to replace screenwriter and series creator Kevin Williamson, resulting in the script re-writes that inspired Graham to drop out and making Hayden Panettiere "beyond frustrated with the changes" that have rendered her character "dumbed down significantly." As pointed out by an astute Zap2It commenter, the source may be Williamson himself; he tweeted recently about having sushi with writer Carina MacKenzie, who broke the Kruger story.
Even Wes Craven is getting in on the rumors, responding to Zap2It's criticism with a curt "I have not been given control of the script" on, where else, Twitter. The fact that that's his only response to the story, rather than a blanket denial or defense of Kruger, may tell us everything we need to know.
Kruger was responsible for the poorly received Scream 3 as well as the godawful Transformers 2, so it comes as no surprised that Williamson might be a little frustrated to be replaced by the guy. Now that the story is out in the open, are we going to see even further cast mutiny? Even though no one really seemed to be expecting a film on the level of the first Scream, hopes were high that this next installment might at least be more than an utter debacle. With all this chaos behind the scenes and filming set to start Monday, though, it's hard to see how the bad blood won't seep through onscreen.
Your Daily Blend of Entertainment News
Staff Writer at CinemaBlend