Elisabeth Moss & Mark Duplass Tease The Secrets Of The One I Love, The League And More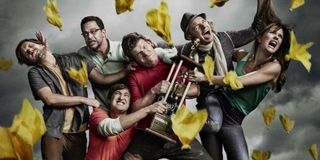 Something happens 13 minutes into The One I Love that changes everything for its characters, plot and audience expectation for the raved about Sundance rom-com. Most reviews out of Sundance delicately danced around this pivotal plot point so as not to spoil it for the untold masses who had not made it to Park City that January. The film's first trailer teases this mystery moment, and the film's stars refuse to speak about it directly. Welcome to the world spoiler alerts has wrought.
For all my grousing, I commend the team behind The One I Love for preserving the secret of the film's second act. It's an element that if revealed could definitely make the movie an easier sell to audiences who might otherwise write it off as another indie relationship drama. But not knowing what this twist is undeniably makes its reveal more fun in theaters. Still, it makes it tricky to conduct an interview when no one will talk about the central plot device of a film.
Nonetheless, I had a blast speaking with The One I Love's director Charlie McDowell, and stars Mark Duplass and Elisabeth Moss. In a conversation filled with tip-toeing and Easter eggs, we uncovered the unconventional filmmaking behind this celebrated comedy, the magic in its making, and how it could prove the final straw in a soured relationship.
The One I Love is a great date movie. Being about a couple on the verge of divorce, this romantic comedy poses some tough questions that could make any couple reflect on their own relationship. Still, Duplass insists, "It's a fantastic date movie! And we have to say that, because it's a romantic comedy, but--"
Moss interjects, "The discussions afterwards!"
Duplass finishes the thought, "It's all about the coffee shop afterwards."
The pair agreed that this is a movie that will provide great fodder for conversation afterwards, especially because of its ending. "You know, without giving too much away," Duplass explained, "There are quite a few interpretations as to what is happening and what does happen at the end of the film, and everyone who comes to us is convinced they're right."
The One I Love is a litmus test for your relationship. "We apologize in advance for couples breaking up," Moss offered. But her co-star insists that if The One I Love splits you up, "You shouldn't have been together in the first place. You owe it to us."
Director Charlie McDowell concurs, "But then that's a great date movie, because then you're not supposed to be with that person." He admits the movie is meant to raise questions that force the audience to reflect on their own lives and loves.
Moss added, "I feel like you're going to go to see this movie and you're going to wonder--whether you're in a relationship or not--what you would do in that situation. I've already had people ask me, 'So if that happened to you, what would you do?? Would you stay or would you go?' I think it's interesting to think like, as a couple, what would you do? Would it make you explore your relationship? Would it not? Because it is a real couple. There's nothing weird about us. We are a totally normal couple in the movie, so it allows the audience to enter this more unusual idea on a path that they're familiar with, you know."
The One I Love was a family affair. Watching the film, you might notice that it has only three actors--albeit three very well-known ones--and predominantly takes place in one location. The feature directorial debut of Charlie McDowell was a low-budget affair that was shot in just 15 days and with the help of family and friends. We've already told you how McDowell's girlfriend Rooney Mara contributed by pulling together costumes, but his step-dad Ted Danson helped out by playing the couples' counselor to Mark Duplass and Elisabeth Moss.
The script was not set in stone. McDowell and screenwriter Justin Lader worked out the story together, but to help keep the film feeling authentic and intimate, they allowed the actors to improvise a lot of their dialogue. But this is not the brand of improv favored by the Apatow mafia, an endless series of one-liners and lunacy looking for what pops. Instead, they began with a "scriptment," McDowell explains, " which is a script and a and treatment. It's basically, every scene is very detailed-ly written in terms of the intricate plotting, where it goes and where the characters are emotionally and where they're heading. Then what was kind of off the cuff was just the dialogue."
Duplass explained how this worked using a scene involving Russian nesting dolls as an example. He said:
The script allowed shifting on set. Because of the delicate character work The One I Love requires, Mark Duplass and Elisabeth Moss had the rare opportunity to shoot most of the film in chronological order. To that end, sometimes the scriptment would change based on how an improvised scene turned out. Moss recalled, "Me and (Mark) and Charlie and Justin would get together and be like, 'I feel like she's going in this direction a little bit too much and I don't want that impression to be given, so I think we need to--' and we'd literally take out an entire plot point because of what we just shot. So, it was this constant maneuvering through it and building this thing as you went along. I'd never been part of anything like this."
McDowell confirmed that this workflow kept the screenwriter (Justin Lader) on set, and how that was an advantage that allowed the film to grow in an unorthodox but suitable manner. Duplass loved this style of working, and said, "It was great. It allows you to shuck and jive and keep your movie from falling on its ass, in my opinion. Because, again, you're like 'In scene 13, they were more connected than I thought they would be, so we can afford to make scene 14 a little more disastrous, because we've got a bedrock now.' We tried to shoot as much of the emotional scenes in order as possible, without giving too much away. There are quite a few effects in the movie and those had to be shot in a certain order to make it efficient, but in general, we tried to be able to build upon what was previously happening in the narrative."
Elisabeth Moss won't comment on those True Detective rumors, but Mark Duplass will. Moss was the soul of civility and discretion when asked if she was ready for True Detective season 2, saying, "These are completely rumors. Obviously, I'm a fan of the show. Obviously it was done brilliantly, you know, but it's all sort of as much news to me as anyone else…I'm very flattered. There's like nothing that you can be except flattered to be like even considered for the project. So…"
Duplass picked up the dangling conversation to say he's been stumping for Moss around the HBO offices, where he's prepping his new series Togetherness. "I just walk around the offices with an Elisabeth Moss sign. (Chants) Elisabeth Moss, Elisabeth Moss!"
Moss laughs, and suggests, "It's him. It's him that's starting the rumors. We found the culprit."
Togetherness will be short and sweet, just 8 episodes long. "Perfect amount for me," Duplass said, adding, "It stars me and Melanie Lynskey as a married couple and Steve Zissis and Amanda Peet who are our best friends who are living on our couch. And it's about as maybe as The Puffy Chair was an examination of the funny and sad elements of being in a relationship in your twenties. It's that for your thirties and we just finished our first season and it will run in January."
The League's new season will offer major surprises and cameos. Duplass was tight-lipped about specific cameos. When I pressed, asking if the headline-dominating Michael Sam might be making an appearance, I was given only a broad grin but no answer. Duplass did say, "We just started shooting, we're a couple of weeks in, you know. We will have a new gaggle of football players, as usual, coming on to the show. There's one new and exciting plot element that I'm very excited about, that we haven't done at all this year. There are some real stakes to the championship this year, not just bragging rights….I'm being secretive. I'll really get in trouble if I say anything. They'll beat me up. So yeah, that'll air in September. "
Elisabeth Moss will play wife to Luke Evans in High Rise. The follow-up to Ben Wheatley's celebrated Sightseers is based on the J.G. Ballard novel. "Guess what, I can talk about that movie. Let's talk about it!" Moss exclaimed. "It's based on the book. You can go read the book if you like. I can tell you the entire fucking plot line. No, I'm really excited, literally in the middle of filming on it. I've done two weeks and then I go back to do two more weeks on Saturday. It's an amazing cast of really cool people like just some of the best like British actors and I'm a huge fan of Ben Wheatley's Sightseers, so I just flipped out and I was really flattered to be asked to be in the film. (I'm) the only American in the film, so I was really, really excited to be a part of it. And it is, I mean, if anyone has seen any of Ben's work, I think they'll know what to expect. It's going to be very dark."
Duplass noted the material is a great match for Wheatley's style, to which Moss added, "Oh yeah, this is perfect for him. I have been in situations on set in the past two weeks where it's literally been like what the fuck am I doing? I am so far from home, but it's amazing and so exciting… I play Helen, Helen Wilder. Anyone who has read the book, Wilder is sort of one of the main characters in it, and some would say he's a villain. Some would say he's the hero, and I play his much put upon wife, who kind of ends up becoming less put upon let's say."
Daniel Radcliffe and Charlie McDowell are mutual fans. The Harry Potter star recently noted he was a fan of The One I Love, and the two have sat down to talk about a possible project. "Daniel and I actually had a meeting about doing a project together," McDowell told me. "So he had seen the film, and it was just this crazy thing where, you know, he called me up and he was like, 'I loved it. I really connected to this and this script.' So (the movie) we had been meeting on had kind of a similar theme and tone and a totally different story so it felt like I was doing something different, but he felt like I was the right person for it."
Both are eager, but this unnamed movie isn't a go just yet, "There are so many things have to fall into place and schedules and the script and all that," McDowell explained. "But he is someone I really want to work with, because I think he's making really interesting choices. I think he is just naturally a charming sweet person and he is in real life, and I like that he's being daring and… I like that he had the greatest thing in the world happen to him and the hardest thing in the world happen to him. And I like how he's navigated post-Potter. Also I'm a huge, I love Harry Potter, so, just like, it was funny just talking to him on the phone and then meeting with him…. There was a moment where I was totally talking business and then there was a moment where he said something or made a look or something and I was like that's fucking Harry Potter. That's awesome, you know."
Charlie McDowell and Justin Lader are re-teaming for a new movie. "Justin and I have just finished a script that we're moving forward with and hopefully it's going to the next thing we make," McDowell offered. "And again, it's building on kind of what we just did and more locations, more actors, but…we like to take a high concept idea that could be a big studio movie and we focus on the small, intimate relationship version of it, and that really excites us…. It's called Chilmark, which is a town in Martha's Vineyard and it take places in the sort of off-season of the summer town and yeah, it's the name of a town." Casting, he expects, will begin shortly.
The One I Love is now on VOD and opens in theaters on August 22nd.
Staff writer at CinemaBlend.