Michael Sam's New OWN Reality Show Is Delayed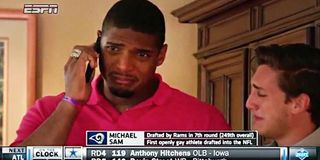 OWN has found a way to stay relevant by putting together a slew of hits based around prominent industry names like Tyler Perry and Lindsay Lohan. The network seemed to land a pretty big fish earlier this week, when it signed on recent St. Louis Rams draft pick Michael Sam. He's the first openly gay player ever to be taken in the NFL Draft. Now, however, it seems the much-discussed documentary series will not be coming to fruition—at least not anytime soon.
On Friday, OWN announced that the network would be postponing the Michael Sam documentary series. The decision was apparently made after OWN met with the St. Louis Rams to discuss the project and its potential effect for the football team. According to THR, Sam's agent Cameron Weiss spoke out to explain why both parties felt it was best to postpone the project.
The amount of media attention Sam has gotten as an openly gay football player has been even higher than many suspected. While an overwhelming majority of Americans seem to be supporting him and even rooting him on, there is a clear division among observers when it comes to how he should behave. There are some who think he owes it to the gay community to carry the flag as loudly and proudly as possible. He kissed his partner on national television following his selection, and many would like to see him continue on that same path, especially since the NFL has had some homophobia problems in the past. There are others, however, who feel the best thing he could do for the gay community would be to just act like any other player. As the 249th pick in the draft, he's going to need to work really hard to try and make the team, and those in the latter group think feeding into the media brouhaha will only hurt his chances and turn his drafting into a sideshow.
Regardless of the St. Louis Rams' personal feelings about the debate, it's easy to see why they might feel Sam's decision to take on a reality series might be a distraction, both for the player and his team. When the helmets go on, everyone needs to be on the same page, and the other players shouldn't have to be thinking about reality shows and Oprah if they don't want to be. Furthermore, they shouldn't be thinking about some random rookie who likely won't contribute in any meaningful way his first season. Sam isn't a quarterback or a star. So, it's better for everyone if he blends.
The initial press release for the docuseries indicated that the show would follow Sam as he worked and lived in the Midwest, hoping to earn an official spot on the Rams. When Oprah noted in the press release that "acceptance and illumination start here," it seemed pretty clear that the focal point of the series would be on Sam as he dealt with being a gay man in the spotlight rather than on Sam as he dealt with being a pretty good rookie athlete hoping to make his dreams come true. Focusing on the former in a reality series could have made the latter a whole lot more difficult, though. If he's able to make the team and firmly establish his place on the team, however, he could probably do both down the road.
Michael Sam had tremdnous success in college as a defensive player for Missouri. For his sake, I hope that translates to the NFL.
Amazing Race & Top Chef superfan with a pinch of Disney fairy dust thrown in. If you've created a rom-com I've probably watched it.
Your Daily Blend of Entertainment News
Thank you for signing up to CinemaBlend. You will receive a verification email shortly.
There was a problem. Please refresh the page and try again.