Ellen Albertini Dow, The Wedding Singer's Rapping Grandma, Dies At 101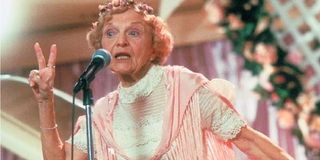 The actress who provided one of the most memorable scenes from one of Adam Sandler's best films has sadly passed away. Ellen Albertini Dow, perhaps best known as The Rapping Granny in The Wedding Singer, died on Monday at the amazing age of 101, capping off one of the most unique careers in the biz.
Most fans simply knew Ellen Albertini Dow for that memorable role as the jovial geriatric, Rosie who, in 1998's The Wedding Singer took the stage and rolled through rhymes with her rendition of The Sugarhill Gang's seminal hit, "Rapper's Delight." However, reported details of her career truly showed one of the most unique paths to Hollywood, possibly ever.
Hailing from Pennsylvania, Albertini Dow, born November 16, 1913, began her career studying acting in New York and Paris before moving to Los Angeles to teach drama. She would eventually end up at Pierce College teaching drama, where her husband, Eugene Dow had launched the theater department. Her tenure teaching would last until 1985, when she retired. However, in her early 70s at that point, she would launch her career appearing in numerous films and TV shows over the ensuing decades. She appeared in a laundry list of some of the most notable TV shows of the time, like Murphy Brown, The Golden Girls, Family Matters, Star Trek: The Next Generation, ER and Seinfeld in addition to films such as My Blue Heaven and Sister Act.
However her visibility would magnify greatly in 1998 with what would prove her most memorable outing as Rosie, an elderly woman who Adam Sandler's Robbie Hart was giving singing lessons in preparation for her 50th wedding anniversary celebration. She would memorably take the stage in place of wedding singer, Robbie, to dazzle the audience with her take on "Rapper's Delight." It was so indelible to the film that her rendition even wound up on the film's double-platinum-selling soundtrack album. After that, she saw several more TV guests spots on shows such as Arli$$, Will & Grace and Scrubs before making another memorable film turn as the irascible ethnic slur-spouting Grandma Mary Cleary in Wedding Crashers. Her career would continue, even as recently as 2013 with a TV role on New Girl, with her very last role being in the 2013 film, East of Acadia.
Ellen Albertini Dow leaves behind not only a jam-packed film and television legacy that she began in her 70's, but a showbiz story that completely shatters the Hollywood template regarding how someone, a woman, nay, an old woman can find a place for herself in the film and TV industry and last for such a length of time. We'll always remember The Wedding Singer rhymes, but the way she tackled the business is something that's way more inspirational.
Your Daily Blend of Entertainment News
Thank you for signing up to CinemaBlend. You will receive a verification email shortly.
There was a problem. Please refresh the page and try again.