Emma Thompson's Delayed, Controversial Effie Gray Gets A Full Trailer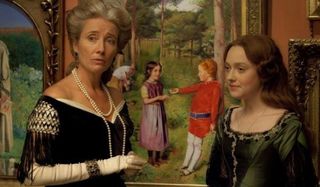 "She has to get away from their clutches." What is wrong with Effie? That's the question that plays at the center of the biopic Effie Gray. And from the look of its first trailer, the simple answer is that it wasn't easy being a woman in the Victorian age, where sex and desire were four-letter curse words.
The Telegraph premieres Effie Gray's debut trailer ahead of its world theatrical debut in the U.K. on October 10th. Dakota Fanning stars as its title character, a woman who caused quite a scandal in Victorian England when she cheated on her art critic husband John Ruskin (Greg Wise), with the painter John Everett Millais (Tom Sturridge). Emma Thompson co-stars alongside David Suchet, Robbie Coltrane and Julie Walters, but it was her screenwriting credit that has caused the film's modern-day scandal.
Indie Wire reports that director Richard Laxton completed production on Effie Gray 18 months ago, but from there copyright claims proved obstacles to the biopic's release. Though best known as an actress, Emma Thompson is an acclaimed screenwriter, having won an Academy Award for her adapted script of Jane Austen's Sense And Sensibility. Effie Gray marks her first produced screenplay since the pair of family friendly romps Nanny McPhee and Nanny McPhee Returns. But while the inspiration for her latest period piece might understandably be assumed to be the life of Euphemia "Effie" Gray herself, two separate writers have sued Thompson and the production over copyright claims.
The first was Eve Pomerance, who has written two scripts inspired by the life of Effie Gray. One of these has been produced as a play, but by December of 2012, a judge dismissed her claims. Next, playwright Gregory Murphy sued because he had penned a play and screenplay about Effie Gray. This second suit delayed release plans until it was settled in March of 2013. But plans to open in October of 2013 fell through, perhaps because of Murphy's public claims of seeking an appeal.
With accusations of plagiarism behind it, Effie Gray can now focus on the accusations of indecency launched at its heroine, who married a childhood friend -- only to find him to be a cold lover. The Telegraph laments that the Gray and Ruskin's first night as man and wife included no consummation. And according to Effie's writings, that was all on her reluctant groom. She explained:
Some historians have posited that Ruskin had expected a nude woman to look like those in the paintings he'd seen, so the reality provided a shock instead of a thrill. Regardless of his reasons, it's little wonder that Effie Gray sought love elsewhere.
Effie Gray has not yet secured a U.S. release date.
Staff writer at CinemaBlend.
Your Daily Blend of Entertainment News
Thank you for signing up to CinemaBlend. You will receive a verification email shortly.
There was a problem. Please refresh the page and try again.