Emma Watson's Biggest Challenge As Belle In Beauty And The Beast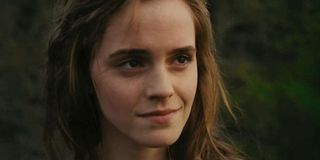 When news broke that Emma Watson would portray the beloved bookworm Belle in the upcoming live-action version of Beauty and the Beast the internet answered with endless praise. But, Watson, while incredibly exciting for her newly received role, is also nervous about one specific aspect. Watson, an incredible actress in her own right, has never quite landed a role like this, a role that will include some singing in the mix.
The former Harry Potter star opened up in her first interview about the Disney role with Total Film Magazine (via The Telegraph) and she confided that there is one aspect of her performance that is most definitely a challenge for the young starlet.
Though Watson hasn't been in a feature length film with a large amount of singing, I don't doubt that she will be able to overcome the challenge. And Watson seems to forget that she has done some singing in a film before. In her latest role as Ila, Noah's daughter-in-law in the 2014 biblically inspired epic Noah, there is one particular scene that Watson shows off some subtle singing chops. Not only does the scene show off the young actress incredible acting range, but it also shows her softly sing a gorgeous lullaby. Take a look:
While this is by no means the extent of singing that a Disney role asks for, it still shows that Emma Watson is capable. She'll for sure have to show off more range with songs such as "Belle", "Something There" and more. When Paige O'Hara took the role as Belle in the 1991 animated feature of Beauty and the Beast she had already held a career as a Broadway actress portraying the role Ellie May Chipley in the musical Showboat. Then with the critical and commercial success of the animated classic, O'Hara went on to reprise her role in direct-to-video followups, as well as more musicals.
This role will not only test Watson in new ways in going outside of her comfort range, but in doing so it will expose a range that could offer her even more interesting roles in her future. Big things are ahead for Watson, and we can't wait to see what her portrayal of the Disney princess will entail.
Your Daily Blend of Entertainment News
Thank you for signing up to CinemaBlend. You will receive a verification email shortly.
There was a problem. Please refresh the page and try again.