Ender's Game Trailer Debuts At CinemaCon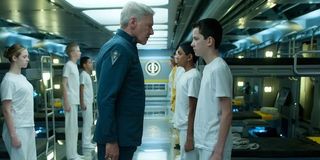 The bad news is that the first ever trailer for Ender's Game - the adaptation of Orson Scott Card's classic science-fiction novel – won't be arriving until Star Trek Into Darkness hits theaters next month on May 17th. The good news, however, is that we've already seen the footage, and we have a full description for you below!
Lionsgate held their CinemaCon presentation this evening and while showing off their slate for 2013 debuted the first teaser trailer for this fall's big science-fiction film. The reel begins with an epic battle in the clouds between jet fighters and alien spacecraft. Harrison Ford's Colonel Hyrum Graff speaks in a voice-over, "They know our strategies, they've learned our weaknesses." Suddenly the tide of the battle seems to start to turn and it looks as though the humans are being beaten. "The alien attack nearly destroyed us. That must never be allowed to happen again." We then see Graff standing in a window looking concerned.
A montage of shots introduce the battle school in space, as well as Viola Davis as Major Gwen Anderson, and the Zero-G arena is shown. Graff's narration continues as though he is pitching a new strategy, saying that they need to find a new kind of soldier who "doesn't think like we think and doesn't fear what we fear." We then see our first shot of Asa Butterfield as the film's central protagonist and titular character, Ender Wiggin.
Speaking directly to Ender, Graff says that he will be the greatest commander they've ever trained, to which Ender questions, "I'm not the first?" Kingsley as Mazer Rackham is then revealed, sporting a tattoo all over his face, saying, "But you will be the last."
The montage-style shots continue, showing space battles as well as the other students of the battle school, and we hear Anderson question Graff, saying "You really don't seem them as children, do you?" The final shot sequence of the trailer has Ender in command screaming, "Now!" as a giant twin-barreled laser gun on a ship is fired into the distance and we see a huge explosion.
Stay tuned in the coming weeks for when the Ender's Game trailer arrives online, and look for it in theaters on November 1st!
For more of our CinemaCon 2013 coverage head over HERE!
NJ native who calls LA home; lives in a Dreamatorium. A decade-plus CinemaBlend veteran; endlessly enthusiastic about the career he's dreamt of since seventh grade.
Your Daily Blend of Entertainment News
Thank you for signing up to CinemaBlend. You will receive a verification email shortly.
There was a problem. Please refresh the page and try again.