Entourage's Turtle Signs Up For Last Vegas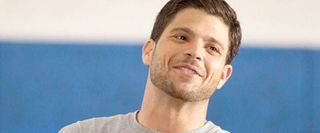 After eight-seasons on the testosterone-soaked series about fame, fortune and hangers-on in Hollywood, Entourage came to a close last year, opening up the schedules of its cast for better or for worse. Since then, Adrian Grenier's shot Goodbye World, a indie comedy that could debut next year; Kevin Dillon fronted the short-lived sitcom How to Be a Gentleman opposite It's Always Sunny in Philadelphia's David Hornsby, and Kevin Connolly appeared in Sebastian Gutierrez's under-the-radar drama Hotel Noir. In short, since the series' cancellation the Entourage boys are struggling to find their groove, save for Jerry Ferrara, who landed a role in the spring hit Think Like a Man and now may join the star-stacked ensemble comedy Last Vegas.
Penned by Crazy, Stupid, Love scribe Dan Fogelman and Definitely, Maybe writer-director Adam Brooks, Last Vegas stars Morgan Freeman, Robert De Niro, Michael Douglas, and Kevin Kline as four old friends who seek a wild time in Vegas, where they throw a bachelor party before the last of them finally settles down. Douglas will be this long-time ladies man, and Mary Steenburgen will play a lounge singer who turns his head during his final days of bachelorhood. THR reports that Ferrara, best known as Entourage's Turtle, is in talks to play "a young punk" who aggravates these older revelers.
When reading the word "punk" consider the context of Last Vegas being about a troop of older—and likely somewhat grumpy—men, so don't imagine Ferrara playing a mohawked lover of the Sex Pistols. Instead, expect Ferraro to play the kind of punks that Clint Eastwood has cussed at for much of his career: brash young men who think they are untouchable. Basically, this is Ferrara's forte, so he should prove a suitable antagonist to these heavy hitting leading men.
Last Vegas shoots this October; Jon Turteltaub directs.
Staff writer at CinemaBlend.
Your Daily Blend of Entertainment News
Thank you for signing up to CinemaBlend. You will receive a verification email shortly.
There was a problem. Please refresh the page and try again.