The Equalizer 2 Is Probably Happening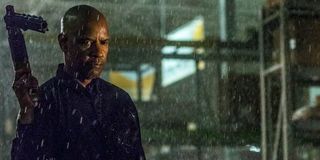 The Denzel Washington-fronted action thriller The Equalizer wasn't exactly a huge runaway hit when it was released last September. It was, however, a solid success, at least enough so that Sony has officially announced it's getting a sequel, and the star is likely coming back for more.
Rumors of a follow up began swirling even before The Equalizer hit theaters last fall and began racking up a better-than-expected box office total. According to Variety those rumors have now come to fruition, as the studio finally decided to go ahead with The Equalizer 2. The first film earned north of $101 million domestically, adding another $90 million from the international market, not a bad haul against a $55 million budget.
Antoine Fuqua directed the first film, and while his involvement in the sequel is not mentioned in the article, it does state that star Denzel Washington is "expected" to reprise his role. Let's hope, because it wouldn't be much without him, as he brings additional layers and texture to what could very easily have been a rote, one note revenge film.
Critics were pretty split on The Equalizer, though skewing towards the positive side, and the film currently has a 61% Fresh rating on Rotten Tomatoes. While that's not the end all be all, people with an affinity for an affinity for action, especially of the R-rated, tough-guy variety, tended to appreciate the film's grim, gritty charms.
Washington plays Robert McCall in the revamp of the mid-1980s TV series of the same name, taking over the lead role held by Edward Woodward. The plays like an origin story of that character. Washington's McCall is a former deep cover operative who has since left the game and is keeping a low profile. All he wants is to be left alone and lead a quiet, simple life, but when a young prostitute (Chloe Grace Moretz) gets roughed up by some Russian mobsters, he can't abide and is forced to use his skillset to defend the helpless. That last part is the basic logline for the series, McCall is a vigilante who helps "equalize" the odds for those who can't help themselves.
While that sounds pretty bland, the film is actually a wee bit nuts. The action is gritty and intense—this is a style of brutal, violent action movies that doesn't get made much these days, the kind that had its heyday in the late '70s and early '80s—and it borders on over the top. It has one of the best walking-away-from-an-explosion scenes ever. One of the villains is also basically the devil, and literary references abound, so it's not always exactly what you expect.
There's no word on when The Equalizer 2 might actually happen, but Denzel Washington and Antoine Fuqua, as well as their Training Day cohort Ethan Hawke, are reuniting for MGM's Magnificent Seven remake, so maybe they'll discuss the matter on set.
Your Daily Blend of Entertainment News