Escape From New York Remake Dropped By New Line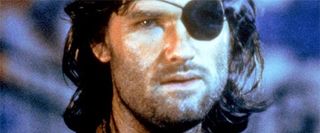 Snake Plissken still might try to escape from an updated version of New York City. He just won't do it for New Line and Warner Bros. The studios have allowed the option on a planned remake of John Carpenter's grungy, post-apocalyptic, rescue-mission classic to drop, according to Deadline, meaning that the options are back up for grabs.
Let's hope that they stay there. There's nothing wrong with Carpenter's 1981 original, which starred Kurt Russell as an eyepatch-sporting, tough-as-nails convict with a special forces background who is dropped into the black heart of Manhattan -- which, in the future, has been converted into a maximum security prison -- to rescue the President of the United States after Air Force One crashes. If a studio wants to try and improve on a pre-existing Snake Plissken story, why not remake Carpenter's ill-conceived follow up, Escape From L.A., which tarnished the anithero's legacy by having him surf a cheap, digital wave down Wilshire Boulevard. I still shudder when I think of that terrible sequel.
There are no concrete details as to why New Line and Warner walked away from their planned Escape remake, which was going to be directed by Breck Eisner. Likely, the deal fell apart as the actors they hoped to fill Russell's jack boots signed on to other projects. Tom Hardy, long thought to be the most likely candidate to play Plissken in a remake, has become Christopher Nolan's go-to guy now. And while Gerard Butler and Jeremy Renner were rumored to be interested at various stages, the former hasn't proven himself to be a bankable commodity while the latter is scratching his action itch in Mission: Impossible sequels, Bourne reboots and Marvel's upcoming Avengers picture.
So for now, Snake remains Russell's baby. With luck, Hollywood will leave it that way.
Movie junkie. Infatuated with comic-book films. ReelBlend cohost. Resident dad. Extroverted introvert. Wants to see the Snyder Cut. Managing Director at CinemaBlend.
Your Daily Blend of Entertainment News
Thank you for signing up to CinemaBlend. You will receive a verification email shortly.
There was a problem. Please refresh the page and try again.