Even Wreck-It Ralph Has Huge Problems, According To The Latest Honest Trailer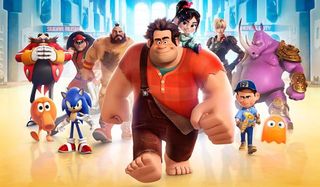 In 2012, Wreck-It Ralph was the breath of fresh air that Disney needed to prove that they weren't merely just Pixar's nesting grounds. But even good movies have their fair share of problems, and there's no better way to point them out than with a classic Honest Trailer. Prepare to fight in the video below.
Screen Junkies' YouTube channel released their channel's latest cinematic skewering, and with Wreck-It Ralph in the cross-hairs, not even everyone's favorite Donkey Kong substitute is safe from some good natured ribbing. Of course, the off-brand video game characters are just the beginning of the shots taken against the video game world's equivalent of Toy Story, and all bets are off once the video starts digging into the more contentious parts of Wreck-It Ralph's story.
As if pointing out that arcades are a thing of the past wasn't enough of a downer, the point is raised that the existence of a video game character is pretty grim in the way it's depicted in Wreck-It Ralph. In particular, the games that simulate combat look like they're nothing more than an exercise in nihilism, considering every day is another chance to possibly die on the battlefield. Of course, this just means that the next reset will being you back, ready to die and reset yet again. At least with Toy Story, the toys didn't have to respawn to carry out a somewhat normal life.
On a lighter, but just as interesting note, when it comes to Wreck-It Ralph's worldview, another interesting thing to point out is the predominant references to candy and sweets for the latter half of the film. While all of the gags in the world of Sugar Rush are pretty funny in the context of Ralph being a fish out of water, most of the latter half of the film's plot-line focuses on food references. References that must have cost pretty pennies that could have, according to Screen Junkies, gone towards obtaining the rights for Donkey Kong, Master Chief, and Mario – rather than craft a fictional trio that easily served the same functions.
Despite the rather grim outlook that Wreck-It Ralph takes on the issues video game characters, and copyright law, force us to think about, the film obviously manages to forget about said concerns. Using the power of laughter, it turns what could be such dreadful ground into heartwarming lesson fodder that'll leave you with a smile a mile wide. In fact, one has to wonder what sort of lessons the first film can teach the crew behind the promised sequel, as Wreck-It Ralph 2 is currently being written and plotted out for future release.
If the powers that be are smart like The Russo Brothers, they'll learn a lesson or two from this Honest Trailer and create a sequel that, at the very least, addresses the issues of the first film. Though if the rumored fighting tournament idea is still in play, they may have already done so. Only time, and an infinite supply of arcade tokens, will tell.
CinemaBlend's James Bond (expert). Also versed in Large Scale Aggressors, time travel, and Guillermo del Toro. He fights for The User.
Your Daily Blend of Entertainment News
Thank you for signing up to CinemaBlend. You will receive a verification email shortly.
There was a problem. Please refresh the page and try again.