Every Rocky Horror Picture Show Song, Ranked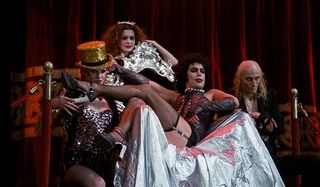 Fourty years ago, The Rocky Horror Picture Show started its reign as the midnight movie for the ages; and to this day it still reigns. Probably the greatest reason that Richard Hartley and Richard O'Brien's masterpiece of absolute pleasure has endured the years is, of course, its rock-and-roll fueled score. But if you were to try and rank these songs in their exact order of greatness, you'd probably be wandering into a discussion of a rather tender subject. Still, in the name of science fiction and Transylvanians everywhere, and considering it was all over TV last weekend - which has lodged the entire score in our heads, we're gonna give it a go and rank every song in The Rocky Horror Picture Show
15. Rose Tint My World
As fun of a movie as Rocky Horror is, it does frontload a bunch of action - only to slightly drag somewhere in the middle. "Rose Tint My World" is more of a song to move things along, instead of a song that's remembered for the ages. Still, there are no bad songs in The Rocky Horror Picture Show, but someone had to be at the bottom of the list and this song's the slowest in the pack. At the very least, having Brad constantly asking for his mommy is a fun touch.
Favorite Lyrics: "Now the only thing that gives me hope, is the love of a certain dope."
14. Wild And Untamed Thing
Just when you've settled into the lull of the Rocky Horror Picture Show cast floating around in a pool, blissed out beyond belief, this baby kicks in. It's a late game boost, but Tim Curry's Frank-N-Furter commands this song and helps drive the film to the close in style. Bonus points go to Richard O'Brien though, as his surprise turn to the film's heel sews the number up beautifully - and sets up a very important song down the line.
Favorite Lyrics: "So let the party and the sound's rock on. / We're gonna shake it 'til the life is gone!"
13. Fanfare / Don't Dream It
Herein lies the ultimate motto of all Rocky Horror fans. Yet within this song lies the lamentation of not being true to yourself. Frank-N-Furter's reflection on classic movie star Fay Wray's beauty, and his own want to be just like her, is the first vulnerability we see from a character that we've been lead to hate throughout the film. Sure, he's killed, screwed, and just been plain nasty to all he's come into contact with - but he's still got a heart.
Favorite Lyrics: "Whatever happened to Fay Wray? / That delicate satin draped frame. / As it clung to her thigh, how I started to cry / 'Cause I wanted to be dressed just the same."
12. Planet Schmanet Janet (Wise Up, Janet Weiss / Hot Dog)
This is another one of the transitional songs that don't really focus on telling story, but push the action along to the next set-piece. Which is absolutely no problem, because it's short, punctuated, and extremely memorable in its own right. Still reeling from the shock of Eddie's remains being served as dinner, the audience is pretty much up for anything at this point - so why not a little bit of exposition and some hot dog jokes?
Favorite Lyrics: "You're a hot dog, but you better not try to hurt her… Frank Furter."
11. Touch-A, Touch-A, Touch Me
One of The Rocky Horror Picture Show's few faults is the fact that, despite being central characters, Brad and Janet don't really get to musically stand out like everyone else does. Originally, both of them were supposed to have their own songs questioning their relationship, but Janet's was the one that survived the cut. Though, to be fair, "Touch-a, Touch-a, Touch-a, Touch Me," definitely gets the point of their relational dysfunctions - particularly with Susan Sarandon's perfect "good girl gone bad" performance.
Favorite Lyrics: "I thought there was no use getting into heavy petting. / It only leads to trouble and seat wetting."
10. Eddie
Despite being in the film for only a brief song, Eddie's character is integral to the mystery at the heart of The Rocky Horror Picture Show. At least, he is for the second act. Which means that his backstory needs to be presented in a quick enough manner that it doesn't leave too many loose ends. "Eddie" is that song, and it's one of the songs that keeps the momentum going during the point in the film that really needs it, but still manages to place in the back 9 of the lot.
Favorite Lyrics: "I said 'Hey, listen to me. Stay sane inside insanity.' / But he locked the door, and threw away the key."
9. I'm Going Home
While "Don't Dream It" starts to show us the more sensitive side of Frank-N-Furter, "I'm Going Home" brings it in for the big finish. With just one song, Frank officially becomes the least harmful Transylvanian after Riff Raff and Columbia's betrayal. After all that's happened, and all the things he's done, Frank realizes that he really likes it on Earth. Hearing him sing it makes you wish he could stay, and his eventual death only heightens the sadness he conveys.
Favorite Lyrics: "Cause I've seen blue skies through the tears, in my eyes. / And I realize… I'm going home."
8. The Sword Of Damocles
For a creature that was just born in a lab, "The Sword Of Damocles" is a pretty articulate summation of the experience of life. It's also a good shorthand when it comes to developing the character of Rocky. With the very little dialogue and further singing he gets to experience throughout the rest of the film, it all builds on the foundation that this song lays down. It's also one of those songs that's part of the golden stretch of numbers that really shine in the film - which begins with "There's A Light…" and ends with "Eddie."
Favorite Lyrics: "I woke up this morning with a start when I fell out of bed. / And left from my dreaming was a feeling of unnameable dread."
7. Dammit Janet
While Brad's big number later in the film, "Once In A While," was cut from the film; he still gets to pull one showstopping number out of his hat with "Dammit Janet." Even more interesting is the fact that in one song, Barry Bostwick has to set up the relationship for these two characters throughout the rest of the film. He does so admirably, and with comedically unenthusiastic backup from some incognito, would-be Transylvanians.
Favorite Lyrics: "There's three ways that love can grow. / That's good, bad, or mediocre. / Oh J-A-N-E-T, I love you so."
6. I Can Make You A Man
After all of the build-up of Dr. Frank-N-Furter's character, the payoff finally arrives with the creation of Rocky, Frank's would-be life mate. Some would run to document how they'd just successfully created another human being, but the good doctor doesn't waste time as he breaks into a bit of a brag with "I Can Make You A Man." Of course, his ulterior motive to woo Rocky's heart is clearly on display as he crows about the perfect man, making you question and giggle with every single line Dr. Furter belts out. It's cheeky and one of the reasons The Rocky Horror Picture Show is at its best in the middle section of the film.
Favorite Lyrics: "He'll be a strong man. / Oh honey, but the wrong man."
5. Over At The Frankenstein Place
Getting into the top 5, the first entry is a duet between Brad And Janet, with a little bit of Riff Raff thrown in for good measure. The final moment before The Rocky Horror Picture Show goes off the rails is this soaring number, and for the choral arrangement alone this song should be ranked as high as it is. But the interplay between Susan Sarandon and Barry Bostwick is as adorable as their vocals. Even with impending dread in the air, you can't keep this song down.
Favorite Lyrics: "There's a light, in the darkness of everybody's life."
4. Science Fiction / Double Feature
"Science Fiction / Double Feature" isn't the flashiest, or the most fantastic song in the Rocky Horror canon - but that doesn't stop it from being one of the most awesome. To open a film that goes as wild as this one does with a slower paced ode to 50's sci-fi is enough of a warm-up for the audience to get ready, while enough of a gentle intro to welcome the casual fan. You could imagine the audience soaking in the classic film references, and wondering whether or not there really will be androids fighting in this film.
Favorite Lyrics: "I knew Leo G. Carroll was over a barrel when Tarantula took to the hills. / And I really got hot, when I saw Janette Scott fight a Triffid that spits poison and kills.."
3. Hot Patootie-Bless My Soul
I'm about to let you younger readers into a bit of a historical secret: Meat Loaf was a bit of big deal back in the 70's. Before he took on the moniker "Bitch Tits," in Fight Club, he wowed the world as Eddie - the biker who eventually would be served up like, well, a meat loaf. But before his untimely death, he got in one really good song that paid tribute to rock and roll, making out, and killer saxophone solos.
Favorite Lyrics: "Hot patootie, bless my soul. / I really love that rock and roll.."
2. The Time Warp
"The Time Warp" is basically the official dance of The Rocky Horror Picture Show. You play this song, and not only will you have people dancing all over the place - it's basically shorthand for the Rocky Horror experience. Just like Dorothy crossing over into the colorized world of Oz, Brad and Janet's world opens up when Riff Raff throws that door open - and the audience is along for the ride as well.
Favorite Lyrics: "It's just a jump to the left, and then a step to the right. Put your hands on your hips, and bring your knees in tight. But it's the pelvic thrust, that really drives you insane. Let's to the Time Warp again."
1. Sweet Transvestite
If you were to pick one song that sums up Rocky Horror in a nutshell, it would have to be "Sweet Transvestite." In fact, it's pretty much the tipping point for the rest of the film, as no other song punches it out like this one. Blame it on Tim Curry's dramatic entrance as Frank, followed by a solid song's worth of seduction and bravado - accompanied by Susan Sarandon and Barry Bostwick's frightened Brad and Janet trying to keep it together. With a song like this, can you blame them for giving in?
Favorite Lyrics: "I'm not much of a man by the light of day, but by night I'm one hell of a lover."
Senior Movies Contributor
CinemaBlend's James Bond (expert). Also versed in Large Scale Aggressors, time travel, and Guillermo del Toro. He fights for The User.
Your Daily Blend of Entertainment News
Thank you for signing up to CinemaBlend. You will receive a verification email shortly.
There was a problem. Please refresh the page and try again.