Ewan McGregor Says Don't Hold Your Breath For Trainspotting 2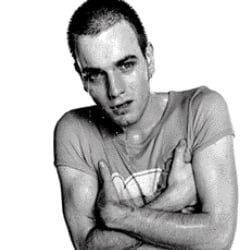 Ever since Trainspotting became the unexpected hit that introduced most of the world to both Danny Boyle and Ewan McGregor, everyone involved in the film has hinted repeatedly at a sequel. Author Irvine Welsh, who wrote the original novel, had the second book Porno all ready to go, and as recently as last fall Trainspotting co-star Robert Carlyle said that work on the sequel could begin whenever Boyle said so.
And yet, there would be no Trainspotting sequel without McGregor, and earlier this week he told anyone waiting anxiously for Porno not to hold their breath. "They've never sent me a script for it," McGregor said during the roundtable interview for The Ghost Writer (more on that later). "I'd like to work with Danny again. I'm not sure I'd want to do a sequel to Trainspotting, just because I think Trainspotting is very important. It was an important film for British cinema, and I wouldn't want to tarnish its reputation by making a poor sequel. That's not to say they couldn't write a great script, because they could do that. But I wouldn't hold your breath."
McGregor also spoke at length about the important role that Trainspotting played in his life, and how the films he made with Boyle-- also including Shallow Grave and A Life Less Ordinary-- were "the most important thing in my life at that point [...] it was like an identity for my acting." Boyle has said that he'd only make Porno-- set 10 years after the events of Trainspotting-- once the actors involved had gotten older, but even if the sequel never gets going, wouldn't you love to see another McGregor/Boyle reunion, now that one's an Oscar winner and the other is Obi-Wan Kenobi?
Check back later this week for more from McGregor and his Ghost Writer co-star Pierce Brosnan.
Your Daily Blend of Entertainment News
Staff Writer at CinemaBlend