Exclusive Interview: This Is It Choreographer Travis Payne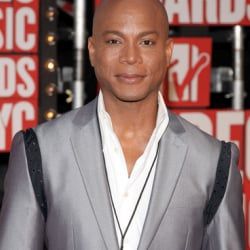 This Is It is being sold, yes, as a chronicle of the last moments of Michael Jackson's life. But it's also an interesting story about artistic collaboration, making real characters out of people like director Kenny Ortega, musical director Michael Bearden, and choreographer Travis Payne, all of whom are seen in the film working with Jackson and the rest of the crew, putting their heads together to create a spectacle like none other.
Payne, who first worked with Jackson as a dancer in 1992's video for "Remember The Time," talked to me last week about how Jackson is different from any other artist he's ever worked with, how he decided that the rehearsal footage should be seen in public, and the side of Michael he knew, separate from the public persona. You can see Payne, Jackson and all the others in This Is It, in theaters everywhere today.
You've said Michael Jackson is more collaborative than anyone you've worked with. How does he stand apart from everyone else?
We were able to communicate in a way that I can't with every artist that I work with. It definitely made it more difficult for me, because he was very demanding. He wasn't going to just settle for steps. Everything had a place, and everything had a meaning. That was a welcome challenge to me, because it definitely made me stretch and grow as an artist, and be able to present him with ideas that I'm proud of, then me being able to add more to it, and it just keeps going. It's a true collaboration, as opposed to being paid to come in and create a few steps for a song.
When you came back to work on "This Is It," were you concerned at all that he would be able to keep up with all the work?
Not at all. I knew that Michael Jackson danced every day. He sang every day, though it would not be in front of thousands of people. He was always creating. That is like fuel to an artist. It was just now, recently, that he decided he was ready to share these new ideas with the world. It was just second nature to him. He was always looking for new sounds and trying new ideas. He came with an entire arsenal of things to share when we started this process again.
How was it working on this with all of the other young dancers? How do they keep up with Michael?
All of the dancers that we selected came from different parts of the world, and they were Michael Jackson fans. They were students of Michael Jackson, their entire existence as dancers. It wasn't necessarily always about the person who could kick the highest or turn the most times, it was about a feeling. We were creating a sort of performance show family for him, and creating a tribe around him to support him. That was really wonderful to see, them going through the process and wanting this experience so much. And he was inspired by them. I loved being able to slip him in the back door so he could watch from the back of the theater, so he could get a sense of their personalities, how they related to each other. There was so much that went into choosing them, beyond just their talent.
It's clear that he had a gentle personality, but was he also a tough boss?
Well, yeah, he's a tough boss. But I never viewed him as a boss. I always looked at him as a mentor. You want your mentor to be proud of you. You want to be respected for what you do. And he felt that same way. He wouldn't come in and dictate to anybody. Rather he had a very clear vision of what it is he wanted to achieve.
What did you get most of being able to know the real Michael Jackson? What's most different about him from the public persona?
I want people to realize that Michael Jackson was a human being with feelings, and he was a philanthropist, and he cared deeply about his family and deeply about his fans and deeply about his children, cared deeply about people in parts of the world that he didn't even know. He was so super sensitive to all the conditions of the planet. He was not one to speak out and fight back. He'd rather be peaceful. He's rather conquer the odds with love. Rather than make anyone feel bad for saying something that was untrue about him, he'd pray for them. He'd say, they need more love. Like Mother Teresa and Gandhi and Martin Luther King, all people he looked up to, they were peaceful people, and able to accomplish so much by being peaceful. He didn't like it, but he was OK with people having misconceptions about him. You can't speak to every incorrect statement. He would just rather, through his art, show people how to love more. All he's doing is trying to inspire everyone to be better.
Was there ever a moment that you wanted to keep this unfinished rehearsal footage to yourselves?
No, the first thing I said after we'd found out about Michael's death, and we all had been silent for some minutes in a huddle together, I said "Kenny, I believe that we just need to repurpose our efforts. He would want these messages to get out." It was very important to him that everyone understood where we had come as a humanity, and how much work we still had to do. It would have been an even bigger tragedy not to share what was so near and dear to him at the time of his death with the world. Also we could quite possibly have a bigger audience because he passed, and there's so much desire for people to know what was going on. It was logical for me to finish the journey we had begun with Michael, because that's what he would have wanted.
And it feels finished to you?
I feel like this movie is the beginning of the work that's yet to be done. When this movie is in theaters and people are actually able to take in the information, hopefully they will see for themselves where he was going and what he wanted people to know. Hopefully they will actually hear his cries of action for humanity to step up and take responsibility to our planet. We have so much work to do, but I believe that this movie will make that work happen this much sooner.
Your Daily Blend of Entertainment News
Staff Writer at CinemaBlend