Exclusive Interview: The Mechanic's Jason Statham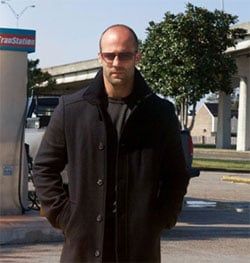 There are few action stars bigger than Jason Statham nowadays. Already set up with two franchises (The Transporter and Crank), and in the midst of setting up a third as part of The Expendables, he's the actor you go to when you want your lead character to kill a lot of people and look cool while doing it. Hence why he is the perfect lead for The Mechanic
Starring as Arthur Bishop, a role first made famous by Charles Bronson in the 1972 original, Statham plays a hitman that knows every in-and-out and is, by all accounts, a killing machine. But after the death of his boss, he is compelled to take on a partner, the young, violent Steve, and show him the tricks of the trade.
At the junket for the film, I was given the awesome opportunity to sit down with Jason Statham one-on-one to talk about the film and discuss his preparation for role, the collaboration process behind the action sequences and even what he thinks about the possible retirement of Arnold Schwarzenegger. Read on below!
*SPOILER WARNING: During the course of the interview, we discuss both the ending of this new film as well as the 1972 movie. As a safeguard, I have changed the color of the text. If you wish to read this portion of the interview, simply highlight the section with your curser. Happy reading!
Has Donald Sutherland refused to do any more projects with you yet? He seems to have this really bad habit of dying off in the first act whenever you're around.
[laughs] You know what, I never fucking realized it; that's a good point right there. Yeah, he gets rubbed out pretty quickly in both our films [The Italian Job and The Mechanic]. Next time I see him I'll ask him. You know, we have the same agent as well [laughs]. I must tell him!
In this film, you play Arthur Bishop, who is a very secretive character, and you don't get to know too much about his back story. When preparing for a role like this, do you craft a history in your own mind?
Yeah, in your own mind. You have to understand how he became this type of guy. It's a creation that you have to do for every role you play. You have to justify why he speaks the way he does, how he got the skills, why he lives on his own. There's all the questions that need answering. And you do that either alone or with a director or whatever feels necessary. There's always a discussion and I think sometimes it's good to spell it out and let people understand why and other times it's best not to. But you always have to do certain amount of "relivings".
When talking about working with Simon West, who is best known for directing Con Air, which is just a great modern action movie…
I love that movie [laughs].
Were you involved with this film before he was?
No, Simon was there… I remember he was involved and Irwin [Winkler], I'm very familiar with all the great movies that Irwin had done, and I knew immediately that there was going to be something good there. And to do a remake of such a classic movie, I thought we had a good chance at making a decent, modern version of something that was made many, many years ago. There's always room to give a fresh take on something. So yes, Simon was involved way before me.
To that point, the original stared Charles Bronson, who is nothing short of legendary. Does that put a lot of pressure on you when you're taking on the role?
It does to the people that are going to make the comparison. The people that haven't seen the original, I'm fine [laughs]. You know, you're going to get die hard fucking Charles Bronson fans that are just going to say, "Ugh, as if someone could do anything like as good as what Bronson did." And I respect that and I understand the passion they're going to have and the distaste they're going to have for anyone trying to fill his boots. You can't do that. But am I not supposed to do a movie because all those people will compare me to him? It's a great story, it's a great script. It's the best fucking hitman script I've ever read. Life's too short to get hung up on what people might think, but I know they're all out there [laughs].
This movie does have its differences from the 1972 film. Do you think that the changes that were made for today's film would have worked back then or do you think that they're more tailored the current generation of action films?
I think the changes are in order to serve the taste and I think the pace is much quicker, especially off the bat. You watch the original, I love it. You can't pull it to pieces. There's no way you can. It's such a great fucking purpose when it was out, but would that play now in today's audiences? I've been asked that question many times. Does it move fast enough? Is there enough action in it, considering it's an action movie as well? I don't know, it's a difficult question to answer. Especially the ending. I think the ending… I'm 50-50. It's tough. I love both of them, it's hard to be committed.
Simon actually seems to feel the same way. The original has the two main characters dying, but at the same time is that too nihilistic? Do you want to see the guy that you've been cheering for this entire time go out?
When we were making it, me and Simon and Ben [Foster], we were like, "Bishop cannot live. It just makes all the sense. It justifies everything." And it was like that, and then towards the end it was like, "Well, what if he does live? Would that make sense? Could it be justified?" But initially we were like, "No way." The director has the last say and it's his movie and we all want to give him the credit for giving us the chance to make the film. But I'm glad he said he was on the fence and he was on the fence for quite a while.
Did you know there was talk of having Bishop get on his boat and ride off into the sunset?
Yeah.
Are you happy that wasn't the ending?
Yes, I am happy [laughs]. Very happy that that didn't happen.
Just to talk a little about the action a bit, you're easily one of the biggest action stars going today if not the biggest. At what point are you teaching the fight choreographers what to do? Do you still have to do the same level of training before a movie like this?
I've learned such a lot over the last few years, and what you tend to know is what works for you physically. It's not like I'm trying to tell somebody that they can't do they're job properly, it's far from that, because the people I worked with on this are all the best of the best. But they're certain moves I can do and there's certain things that work better for me. So the whole point is just that it's a great collaboration. I know what I'm good at, they know what I'm good at. They try and put something together, sometimes it doesn't work. And so there's just a great teaming. I'm getting pretty confident now in certain areas. It's difficult if you don't have somebody that you know and you trust, things don't get done that well. I tend to keep wanting to work with the people that I've had a bit of success with in terms of the action. You go with what's safe.
Speaking of people you've worked with, this past summer audiences got to meet Lee Christmas in The Expendables and there's been talks of a sequel. Obviously the film is still in pre-production, but what would you like to see happen and who would you like to see become involved that wasn't involved in the first film?
It's hard, because my favorite scene was like Arnie [Schwarzenegger] and Bruce [Willis]. I'd love to see Arnie come back, but it's almost impossible to get such a busy man involved. But I'd like to see Bruce Willis play a big role, have more than a day's work. That would be great. In terms of the others, I don't know. We had such a good team, you don't want to lose anybody. So it's like if you bring someone in, someone else has got to go, so I'm quite happy with the team that's already there [laughs].
There has been talk about Schwarzenegger, even though he's now out of the governor's seat, retiring from acting. How do you feel about that?
I'm not happy [laughs]. You know, I love all of Arnie's movies – it's like a shopping list of brilliant… it's like an era, with Sly [Stallone], and Arnie. It's just all disappeared and there's just been nothing like it. But way back they were just the gods, cinema gods. I'm the biggest action movie fan, and it's just sad that someone like Arnie wouldn't be coming back.
NJ native who calls LA home; lives in a Dreamatorium. A decade-plus CinemaBlend veteran; endlessly enthusiastic about the career he's dreamt of since seventh grade.
Your Daily Blend of Entertainment News
Thank you for signing up to CinemaBlend. You will receive a verification email shortly.
There was a problem. Please refresh the page and try again.