Exclusive Interview: The Proposal Director Anne Fletcher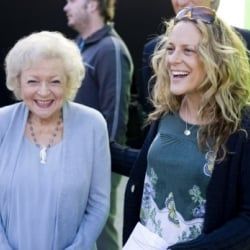 Before Anne Fletcher was the director of hit movies like 27 Dresses and Step Up, before she was the guiding presence on set whom everyone called "Mama," she was that girl who was up for anything. She started her career as a dancer, making her screen debut in 1994's The Flintstones, and remembers getting tossed around by Chris Farley and usually doing whatever ridiculous thing the scene called for, thanks to her real ambition to be a comedian.
Speaking as a director now, she says, "I love working with actors, because I wanted to be one so badly. But I also had this ability to dance. I came here to Los Angeles to dance, and I would end up dancing in comic things. I was always the comic go-to girl." And she says that when working with Sandra Bullock on The Proposal (Fletcher calls her Sandy), Fletcher told her leading actress how badly she wanted to be a physical comedienne like Bullock, while Bullock admitted she'd always wanted to be a dancer.
As the director of The Proposal, the romantic comedy coming out this Friday, Fletcher had plenty of opportunities to use her choreographer's skills, from a striptease performed by The Office's Oscar Nunez to the much-hyped scene in which Bullock and Ryan Reynolds run slap into each other while naked. And though she's putting her cast into all kinds of ridiculous situations, she says they all-- particularly Bullock, who gets most of the embarrassing stuff-- were always up for it. "Sandy's game for everything. [...] She is a physical comic genius. She's fearless. She does what she needs to do to tell the story and be funny."
I talked to Fletcher for about 10 minutes about the physical elements of the movie, choreographing a crazy awkward naked scene, and her unending, unlimited love for Betty White. Listen to the whole thing below.
Your Daily Blend of Entertainment News
Staff Writer at CinemaBlend