Exclusive: Rollercoaster Tycoon Movie Is About A Theme Park Come To Life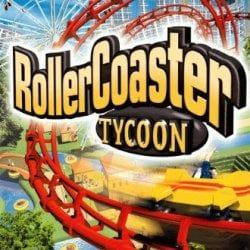 I just got off the phone with producer and director Harald Zwart, who directed the upcoming Karate Kid movie and told me all about his experience making that movie in China. At the end, though, I got in a quick question about the Rollercoaster Tycoon movie set up at Sony, which Zwart is attached to produce and possibly direct. Zwart and writers David Ronn and Jay Scherick pitched the movie, which will be based on the Atari game of the same name, in which players are challenged to build and run a theme park. As Zwart described it, though, the movie will be more like Night at the Museum meets Disney World.
"Well we had a pitch, a story-- it's basically a theme park comes to life," Zwart told me. is the idea. "We had a story woven into the theme park of the Rollercoaster Tycoon,a and that's what we sold to Sony, and that's what we're hoping to make into a movie." Zwart said the pitch is inspired by the fantasy everyone has as a kid, to be left alone in the theme park to roam freely. "Just the idea of taking a ride like in Disneyland and the rides suddenly come to life, [or] you're able to step off and stay behind when everybody else had gone."
When I told him that could be scary as well-- visions of the children from It's A Small World chasing me through the streets-- Zwart laughed and said it's a "fun scary." Sounds a whole lot like the concept behind Night at the Museum, in which Ben Stiller has fun adventures with all the exhibits at the Natural History Museum, and that makes sense-- the two Museum movies were big hits for Fox, and Sony likely wants a little bit of that cash. But what will be the things that come to life in Rollercoaster Tycoon? I can imagine some kind of wooden roller coaster assembling itself into a giant Transformer-sized monster, but it seems safer to expect something a little more cuddly and less abjectly terrifying.
Your Daily Blend of Entertainment News
Staff Writer at CinemaBlend