Exclusive Video Interview: Fish Tank's Michael Fassbender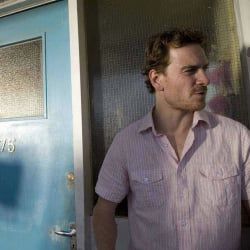 When Michael Fassbender went to the Cannes Film Festival in May last year, he was representing two very, very different films-- the bombastic revenge fantasia Inglourious Basterds, in which he played debonair film critic and soldier Archie Hicox, and Fish Tank, a gritty British indie in which Fassbender plays a morally ambiguous guy enjoying the affections of a bitter 15-year-old girl who lives in a housing project.
Basterds came to theaters before Fish Tank, so now Fassbender has gone from the "that guy" of various independent films to one of the fastest-rising stars of the moment. This year alone he'll star for Steven Soderbergh in Knockout and Cary Fukunaga as the male lead of Jane Eyre, then he'll pop up as the villain in this summer's Jonah Hex. All this comes less than two years after Fassbender's breakout role in Hunger, in which he dropped 30 pounds to play the Irish hunger striker Bobby Sands.
When we sat down last week to talk about Fish Tank, Fassbender was happy to discuss everything he's been up to, from teaming up with director Andrea Arnold to create the brutal and honest tone of Fish Tank to joining Basterds co-star Christoph Waltz once again for David Cronenberg's The Talking Cure. Check out our conversation below, but a warning: the first five minutes contain a discussion of a key plot point in Fish Tank, so if you don't want the plot spoiled, go ahead and skip it (the caption will let you know when it's safe). Fish Tank opens in limited release this week.
Your Daily Blend of Entertainment News
Staff Writer at CinemaBlend