Exclusive Video Interview: Let Me In Director Matt Reeves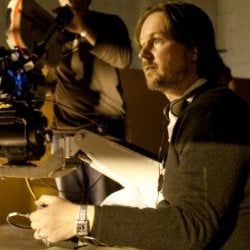 When I got the chance to interview Matt Reeves at San Diego Comic Con earlier this summer, it felt like kind of a risk. Not only I had I not seen his film Let Me In, I hadn't even seen the Comic Con panel-- the movie, another film based on the book Let the Right One In just two years after Tomas Aflredson's Swedish-language film, was a huge gamble as it was, and here I was doing an interview with the director, knowing nothing about the new movie or if it would be so terrible that nobody would want to watch the interview.
You can imagine how relieved I was to finally see Let Me In at the Toronto Film Festival a few weeks ago and learn, thank God, it was actually good. Some might even argue it's great, a story about adolescent romance during the Reagan era that just happens to include a heavy dose of vampire violence. The film stars Kodi Smit-McPhee as lonely, bullied Owen and Chloe Moretz as Abby, Owen's new neighbor who helps him stand up to the local bullies and falls for him without quite revealing she's in fact an ancient vampire. The story sticks closely to the structure of the original film, and some of the shots and dialogue are even identical, but as Reeves told me, he worked hard to infuse the film with an American sensibility, based largely on his own memories of growing up in the early 80s.
I started by asking Reeves why the table where we were seated was covered in Now & Laters candy, which I thought was a fairly simple question, until Reeves spent five minutes answering it and covering the entire origins of the film. That's the kind of guy he is-- extremely friendly and loquacious, happy to acknowledge the doubts people had about "the Cloverfield guy" remaking a beloved recent film but also completely undaunted in his confidence he had made something good. Of course, now that I've seen the film, I know how right he was.
Check out our 15-minute interview below, in which we talk about some of the differences between his film and Tomas Alfredson's, the deliberate Spielbergian feel of the whole thing, and why he won't make another film in the Cloverfield shaky cam style. You can catch Let Me In in theaters this weekend.
Staff Writer at CinemaBlend
Your Daily Blend of Entertainment News
Thank you for signing up to CinemaBlend. You will receive a verification email shortly.
There was a problem. Please refresh the page and try again.