Exclusive: Wild Nudity Filled Clip From Not Quite Hollywood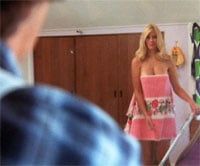 Most people still think of Australian cinema as Crocodile Dundee or if you're a huge nerd like me, as the home of television's most underappreciated science fiction gem Farscape. But Australian cinema has a far more interested and checkered history than the one mainstream audiences have seen. Not long ago and maybe even still, their cinema screens became a place of wild, gory insanity, rampant nudity and sex, and utterly unsafe over the top stunts. Roger Corman? You've got nothing on Australian filmmaking and it's all chronicled in the new documentary Not Quite Hollywood, opening this weekend in select cities.
I caught it earlier this year and if you've any interest at all in grindhouse cinema or maybe have just wondered where those Mad Max movies came from, it's not to be missed. It's a wild exploration of tits, ass, explosions and bad special effects. You can get just a taste of what Not Quite Hollywood delivers, in the extremely NOT SAFE FOR WORK, NC-17 rated, sex and nudity filled clip from the film below.
WARNING! The following clip from Not Quite Hollywood is not safe for anyone who might be offended by seeing the naked female body displayed in utterly inappropriate settings and should not be viewed by minors or anyone at work who doesn't want to get fired. Don't say we didn't warn you. You'll never see this in Hollywood:
Your Daily Blend of Entertainment News
Thank you for signing up to CinemaBlend. You will receive a verification email shortly.
There was a problem. Please refresh the page and try again.