Exclusive: Zombieland Creators Explain The Celebrity Cameo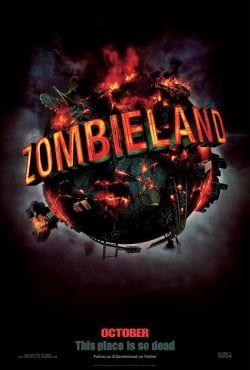 If you saw Zombieland this weekend-- and you probably did, given the great box office it pulled off-- you finally know about the cameo that everyone has been dancing around for weeks. I was completely surprised when I saw the movie, and wouldn't have dared spoil it for any of you guys-- even the director agrees it's probably the best part of the movie.
SPOILERS FOR ZOMBIELAND AHEAD!
But when I talked to the movie's cast, director and writers a few weeks ago, I made sure to ask all of them about Bill Murray's appearance in the movie, promising I wouldn't run their answers until opening weekend was over. And now that time has come! Read below for Jesse Eisenberg, director Ruben Fleischer, and writers Rhett Reese and Paul Wernick talking about what it's like to be working with one of the greatest living comedians when you're making a tiny zombie movie. They explained how they got an original Ghostbusters suit for Woody Harrelson to wear, Bill Murray's improvised lines that didn't make the cut, and why you should stay until the very end of the credits to catch even more Murray goodness.
These quotes are all taken from separate interviews in which I asked basically the same questions. And again, SPOILER ALERT if you haven't seen the movie yet, but I'm pretty sure you knew that already.
How did Bill Murray wind up in the film to begin with?
Jesse Eisenberg: We were very lucky to get Bill Murray. I don't think the writers had him in mind, not because he wouldn't be good, but who thinks you can get Bill Murray to come to Georgia for two days to be in a zombie movie? Three or four days before it happened, he signed on to do it. I've heard he's very selective, to the point where we were worried he really didn't want to do it. But I guess Woody knows him. We're so lucky to have him.
Ruben Fleischer: Various people were sent the draft and passed, and then there was an actor that was attached but then two weeks before shooting he dropped out, and we were scrambling. Woody said 'OK, let me make some phone calls,' and he called Bill Murray and got him to do it.
What's it like once he shows up on the set?
Ruben: I was living a dream, being on set with him. He was so cool and friendly and accomodating. When he decides to be part of Zombieland, I think he said, you know what, I'm going to go with this. We wrote it on the spot, it was so last-minute. We came up with all the ideas together and he just went for it. I think it's probably the most memorable part of the film.
Paul Wernick: It's both exhilirating and terrifying at the same time. Sitting in the same room with him and pitching him jokes-- when he likes it it's the single greatest thing, and when he doesn't respond necessarily to a particular joke or pitch, there have been better ways to go down for sure.
Jesse: On the one hand, it's just the pressure ramps up. We were improvising with each other, the four of us in the movie, together for six weeks, and you get a real rhythm. Then somebody comes in who's kind of a genius at that. But also, the nature of the movie is such that he really shines in those scenes. It was impossible to not laugh, because the stuff he would say was so absurd. At the end, when he's shot, Abigail Breslin asks 'Do you have any regrets?' and he says "Garfield," but he had maybe 100 different lines that were funnier than the next. He would say like, "I wish I'd taken better care of my skin." My favorite one, "Well, probably that I tried to scare this idiot." I said "I know, I have that same regret." He had a million different lines.
How did you choose Ghostbusters, as opposed to any of Bill Murray's other big movies?
Ruben: That's the most iconic. If you're to look at cultural relevance, Ghostbusters is definitely the biggest. We shot stuff that referenced other movies that he had done, but the stuff that was the funniest is what made it into the finished film.
Rhett Reese: Sony did Ghostbusters, so they've got all of those materials and had access to the movie itself, had access to the props from the movie. The costume that Woody wears from the Ghostbusters scene is the actual original costume.
Paul: I don't think it was Venkman's suit, it was someone else's suit, and they had to actually ship another Venkman patch out to sew over.
Rhett: Another piece of serendipity that we didn't remember was that in Ghostbusters they talk about a Twinkie. But a Twinkie obviously plays a very big part in Zombieland, and suddenly there was Harold Ramis with a Twinkie in his had up on screen.
Was it hard to get Bill Murray to play Ghostbusters?
Ruben: I think it was his idea.
Swipe to scroll horizontally
Everyone has done that.
Ruben: That's what we wanted, was this total wish-fulfillment. Woody's character being such a huge Bill Murray fan, you can only imagine what it would be to play Ghostbusters with Bill Murray. We had them doing other stuff too, but that was definitely the funniest part. There was a funny little snippet at the very end of the credits-- Bill Murray reprises his character from Caddyshack, which is pretty incredible.
Your Daily Blend of Entertainment News
Staff Writer at CinemaBlend