Extra Police Deployed To New York City Theaters In Wake Of Dark Knight Rises Shooting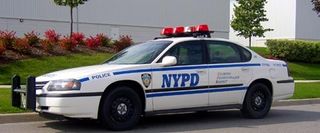 A lot of people planning to go to the movies this weekend may find themselves a little nervous, and with good reason-- this morning's shootings at a movie theater in Aurora, Colorado have raised a lot of terrifying questions about just how safe you are in a movie theater, and how much can be done to protect innocent people sitting in the dark when someone with a gun crashes in. The real answer is there's no way to be 100% safe, but local police authorities can at least help make you safer. Police departments all around the country are likely to be deploying extra manpower to movie theaters this weekend, but New York City's police commissioner Raymond Kelly appears to be the first to go on the record confirming it.
According to two tweets from The Los Angeles Times's Steven Zeitchik, Kelly has confirmed that the NYPD "will provide coverage" at some theaters showing The Dark Knight Rises this weekend-- which, of course, pretty much means all theaters. Kelly mentioned "precaution against copycats" as a reason for the increased police presence, but it's just as likely to reassure moviegoers that they're safe taking their seats in a theater. It seems wildly unlikely that a second person would attempt a shooting this weekend, but I guarantee everyone at the movies this weekend will be worrying just a little bit anyway.
We're continuing to cover the news from Aurora, Colorado this morning as more information comes in. We are, as ever, horrified and saddened by the news, and our thoughts go out to the victims and their families.
Staff Writer at CinemaBlend
Your Daily Blend of Entertainment News
Thank you for signing up to CinemaBlend. You will receive a verification email shortly.
There was a problem. Please refresh the page and try again.