F*ck Your Consideration: Kathryn Bigelow's Zero Dark Thirty Doesn't Need You, Oscar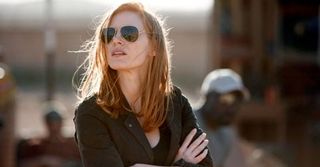 From now until the Friday before the Oscars we'll be running daily pieces about why a film does or does not deserve Best Picture. We've analyzed reasons why Michael Haneke's Amour, Quentin Tarantino's Django Unchained Benh Zeitlin's Beasts of the Southern Wild, and David O. Russell's Silver Linings Playbook all deserve the win. A pair of writers both attacked AND defended Tom Hooper's Les Miserables. Ang Lee's Life of Pi was deemed thematically weak. Now, Kristy digs into Kathryn Bigelow's Zero Dark Thirty.
Let's just admit it: Zero Dark Thirty has about zero chance of winning Best Picture. Yes, it is one of the best films of the year, earning a spot on countless critics' top ten lists, including mine. But after the movie became a political football for politicians who unfairly declared it "pro-torture" to further their own agendas, its Oscar prospects sunk fast. But that doesn't really matter, because Zero Dark Thirty doesn't need your Oscar, and director Kathryn Bieglow doesn't care about its cachet. The movie itself tells us as much.
When I first saw Zero Dark Thirty, I was entranced by Jessica Chastain's hard-nosed performance as CIA officer Maya, whose dogged pursuit of Osama Bin Laden leads to his death via SEAL Team Six. She's a woman working in a male-dominated field. She's tireless and dedicated to her mission. She does it not for a promotion or acclaim, but because this is her job, her passion. Watching Maya refuse to be condescended to, patronized or treated differently than her male co-workers, I realized that Zero Dark Thirty is not just the story of the hunt for Bin Laden, it is also the story of Kathryn Bigelow. Though Maya is based on a real woman whose work was key to Bin Laden's end, Maya's journey in the film makes her a clear surrogate for Bigelow, who is also a standout and female in a field dominated by men.
Viewing Zero Dark Thirty I kept waiting for Maya's story to sideline into one of the subplots typically tacked onto a female professional protagonist. But no love interest turned up. No one questioned her about any maternal yearnings, and her "womanly" emotions never got in the way of her work. Because I find these are often dull and sometimes flat-out offensive, I was elated when I realized Bigelow had rejected these standard "women" stories. This reflects the way Bigelow rebuffed similar "women" stories when she was a frontrunner for the Best Director Oscar in 2010.
At the time, the media was saturated with proclamations about her win being historic (she'd be the first female to win the honor), and attempting to stir the pot over her contending for the award against her ex-husband James Cameron. But Bigelow solidly refused to play into these themes. She insisted she and Cameron were colleagues who respected each other. She refused to be made a novelty with the title "female director;" she didn't need a modifier to make her extraordinary. She is an excellent director period. She is also female. When she won Best Director for The Hurt Locker, she was clearly honored. But don't be fooled. She doesn't make her movies for the awards.
In Zero Dark Thirty, Maya works tirelessly to find bin Laden, even when her clean-cut suit of a boss (who is out of touch with being in the field of this work) urges her to some lesser goal that will help them score morale-boosting headlines and possibly earn her a promotion. She openly refuses. She fights fiercely for her mission with a steady and mesmerizing self-assurance. It's not ego, it's confidence, a confidence so strong that it inspires her team. Similarly, Bigelow is a fearless filmmaker who made a movie about a topic that could easily fall into audience-baiting jingoism and sensationalism, but chose to avoid both. She chose not to show us the horrific images from 9/11, instead playing audio that deftly took us all back to that atrocious day. She obscures the bus bombing in London, because this is not an explosion to relish. And she gives no ghoulish close-ups of the dead Bin Laden because that is not this movie's purpose.
Zero Dark Thirty is about a woman with a mission. The film starts with her first day on the job, and ends when she completes it. There's no scene of Maya meeting the president or receiving a medal because that's not what her journey was about. In the end, she gave everything she had to achieve her vision. For Maya, it was bringing Bin Laden to justice. For Bigelow, it was making the movie she made without compromise. She did that. In the long run, Zero Dark Thirty doesn't need an Oscar to cement it's place in cinema history. An Oscar's always nice of course, but Bigelow is not the kind of filmmaker that's working for the awards.
Your Daily Blend of Entertainment News
Staff writer at CinemaBlend.