Discover How Zero Dark Thirty Lost Its Oscar Buzz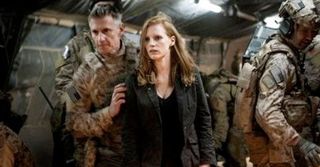 From the moment Kathryn Bigelow's follow-up to the Academy Award-winning Hurt Locker was announced, critics and the media were buzzing about its Oscar prospects. On paper it already seemed a winner, reteaming The Hurt Locker's Oscar-winning director (Bigelow) and its Oscar-winning screenwriter Mark Boal on a story about the search for Osama bin Laden. Once the notorious terrorist was tracked and killed in real-life, the filmmakers reworked their screenplay, then set to work shooting with a star-studded cast as secretly as they could.
This secrecy had us positively salivating to see the final film. And when it was at long last screened, we were blown away by Bigelow and Boal's daring yet never exploitative exploration of this hard-fought victory. But despite winning widespread critical praise, a slew of critic awards, and being deemed a decided frontrunner for Best Picture, Zero Dark Thirty lost momentum hard and fast. The LA Times explored why, speaking with many of the people behind the movie. And the answer essentially comes down to profits over accolades.
Trouble for the film started in December. As its limited release began, politicians and pundits—whether they had seen Zero Dark Thirty or not—began accusing it of being "pro-torture." December is primetime for Oscar promotion, so Sony (via Columbia Pictures) had a serious dilemma to face. Should they engage in the debate and risk giving the controversy staying power? Or should they keep quiet so as not to scare off moviegoers? They chose the latter asking the eager-to-respond filmmakers to say nothing in the film's defense until its nationwide release date on January 11th, 2013. From the standpoint of box office performance, this approach worked.
The $40 million dollar film has earned more $88 million domestically, and over $101 million worldwide. It's a flat-out box office success. But the cost of Sony's silence may well be the Oscar, since much of the most heated debates came right as Academy members were filling out nomination ballots. When the nominations were announced, Bigelow was a noticeable and shocking omission in the Best Director category. Bigelow has chosen not to go on the record for this story, but the decision to stay silent for so long has ultimately flustered Boal, who says:
Sony's silence allowed the film to become a political football, one that politicians gladly played with to grab headlines, while Hollywood shrunk to avoid them. At least one member of the Academy has flat out admitted the torture controversy negatively impacted his view of the film. "The [lawmakers] hijacked the marketing of the film, " Boal declares, "With what, to my mind, was an intellectually dishonest publicity ploy."
Right before the film's wide release both Boal and Bigelow spoke up, he at a talk at Loyola Marymount University, she in the LA Times and The Tonight Show. But it appears the damage was done. On Oscar night, Zero Dark Thirty is up for five nominations: Best Achievement in Editing, Best Achievement in Sound Editing, Best Performance for an Actress in a Leading role, Best Original Screenplay, and Best Picture. But those of us following the Oscars closely aren't optimistic for Zero Dark Thirty taking any of them.
In the end, it seems Zero Dark Thirty might have been too much for the Academy to handle. Speaking to the film's response, Boal has offered, "We made a serious, tough adult movie and we got a serious, tough adult response. Not all of it was honest and not all of it was fair and not all of it was correct. But at the end of the day it all comes with the territory."
Staff writer at CinemaBlend.
Your Daily Blend of Entertainment News
Thank you for signing up to CinemaBlend. You will receive a verification email shortly.
There was a problem. Please refresh the page and try again.